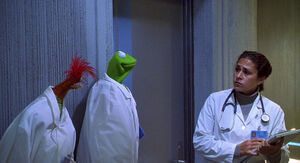 Spies Like Us is a 1985 comedy directed by John Landis. One scene in particular has reached a pop culture awareness, to the extent that posters and t-shirt images have been based on that single moment.
In the sequence, the two main characters are falsely posing as surgeons who are introduced to a tent-full of doctors. The subsequent introduction consists entirely of each individual addressing one another as "doctor" in a repeated fashion.
Muppets from Space features a similar scene in which this joke is presented in shortened form. Kermit and Pepe the King Prawn are posing as doctors, having infiltrated C.O.V.N.E.T. with Miss Piggy and Fozzie to save Gonzo and Rizzo. When they are discovered in the hallway by a doctor in residence, their exchange is a brief nod to the scene from Spies Like Us.
Connections
External links