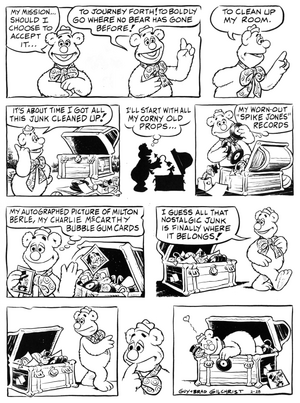 Spike Jones (1911-1965) was an American bandleader, drummer and comedian. He was famous for his novelty songs, which usually consisted of a current popular song performed in a non-humorous way, but then the band would play it again, and insert things like gunshots, screams, and other random sound effects into the music. He was also well known for his recording of the World War II song "Der Fuehrer's Face" (originally written for the Donald Duck short of the same title), which made fun of Adolf Hitler.
In addition to his recording career (and significant work as a "straight" musician), Jones' Musical Depreciation Revue and other stage shows toured for years, he had his own radio show, and several short-lived TV attempts. Jones' zaniness and style was a major influence on Stan Freberg, "Weird Al" Yankovic, and P.D.Q. Bach, among others.
References
"Poison to Poison" was an early Muppet sketch, lip-synced from Spike's 1959 album, Spike Jones in Stereo (featuring the voices of Paul Frees).
In the Sesame Street version of the song "Feelings" released on Let Your Feelings Show!, a female vocalist (Marry Banilow) sings the song through straight one time, but the second time through, the song is punctuated with screaming, yelling, car crashes, and other sound effects, like many Spike Jones songs. The contrast between performances is also similar to Jones' 1947 recording of "My Old Flame" (in which a straight version of the song is followed by wild music, and then a parody performance by Frees as Peter Lorre).
Connections
See also
Community content is available under
CC-BY-SA
unless otherwise noted.