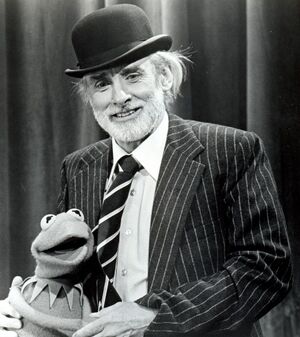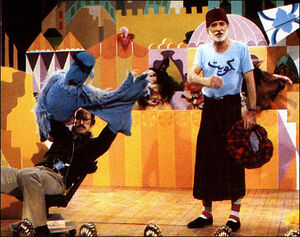 Spike Milligan (1918-2002) was a comedic actor, satirist and author. He was the guest star on The Muppet Show episode 317. He also provided the voice of an Australian in the episode.
Milligan was a key writer/performer on the radio comedy The Goon Show with Peter Sellers and Harry Secombe during the 1950s. He wrote more than 30 books -- novels, parodies of classics and children's verse. He is well known in Britain for his seven-volume comic autobiography about his experiences in World War II, which began with Adolf Hitler: My Part in his Downfall in 1971.
In 1987, he also narrated a children's TV series called The Ratties created by his daughter Laura.
He received knighthood in the 2000 New Year's honours list. But because he was an Irish citizen -- he refused to take the oath of loyalty when he became stateless in 1960, despite spending 7 years on active service in the British Army -- he could only be awarded an honorary knighthood.
Trivia
For years, rumor claimed that the t-shirt with Arabic lettering that Milligan wore on the show, translated to "hashish," and was discovered as such only after the episode was taped and aired. (This rumor was recently printed in The London Times, in an October 2005 article promoting America's Next Muppet.) In fact, Spike's shirt actually says "Kuwait," a reference to his own television series "Q5," which had been renamed in various versions over the years to "Q8" in one of its incarnations. Kuwait = Q8.
Milligan's nonsensical "Ying Tong Song" was performed by a group of Whatnots in The Muppet Show episode 520. The song's refrain, "ying tong iddle i po," was a catchphrase from The Goon Show.
External links
Community content is available under
CC-BY-SA
unless otherwise noted.