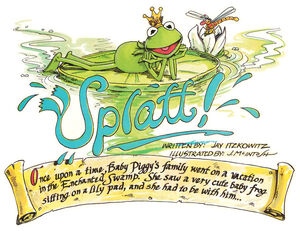 Splash is a 1984 movie about a boy who falls in love with the mermaid who saved him from drowning. As a man, Allen Bauer is unsatisfied with his life, never having forgotten his aquatic saviour. On a whim, he decides to return to the place where his boyhood tragedy took place and finds himself once again saved by the woman. Possessing the ability to transform into a human for short periods of time, the soon-to-be-nicknamed Madison joins Allen in his Manhattan apartment where they are eventually hunted by an eccentric scientist.
References
The Fall 1984 issue of Muppet Magazine features a comic spoof of the story called Splatt!. In black and white flashback, Baby Piggy is shown to have met a "very cute baby frog" after diving into the pond where his lily pad lay. Years later, when Miss Piggy decides she needs a vacation, she returns to the swamp where she feels she's always felt a strange connection with. As she sunbathes in Kermit the Frog's swamp singing "Some Day My Prince Will Come," her purse falls to the bottom of the swamp. Recovering her driver's license, Kermit travels to Manhattan where he's found by Miss Piggy at the local police precinct. The two are ultimately pursued by scientists Dr. Bunsen Honeydew and Beaker.
Connections
External links
Community content is available under
CC-BY-SA
unless otherwise noted.