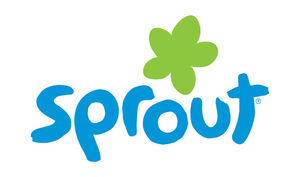 Sprout, formerly known as PBS Kids Sprout, was a cable television channel aimed at preschoolers. Launched in 2005, it was owned by NBCUniversal, a subsidiary of Comcast Corporation. 
Sprout was co-founded by Comcast, PBS, Sesame Workshop, and HIT Entertainment. When Comcast acquired a controlling stake in NBCUniversal in 2011, its stake in Sprout went under the NBCUniversal umbrella. When HIT Entertainment's then-parent company, Apax Partners, sold HIT to Mattel in 2012, Apax retained its stake in Sprout. Sesame divested its stake in December 2012, followed by PBS and Apax in November 2013, leaving NBCUniversal with 100% control of the network.
At the time, Sprout was available on many major cable networks, as well as DirecTV, but was not available on Dish Network. PBS Kids Sprout, as it was then known, replaced the PBS Kids network that was previously available.
Select episodes from seasons 30 to 35, season 37, and seasons 39 to 42 of Sesame Street have aired on the network. Episodes of Plaza Sésamo were also offered in their on-demand service. The Adventures of Elmo in Grouchland has also played on the channel. The Hoobs also began airing on December 25, 2006. The network kicked off the US debut of the show with the Happy Hooby Holidays marathon and continued to air the show daily at 2pm EST.
On September 26, 2007, the network began airing Play with Me Sesame twice during the weekdays. Sesame Workshop's Panwapa began airing on the station in January 2008, and Jim Henson's Pajanimals debuted on the channel on November 2, 2008, airing each night in the programming block The Good Night Show.
The Sunny Side Up Show has featured live appearances of Big Bird (2007), Prairie Dawn (2008), Oscar the Grouch (2008, 2014, 2015), Grover (2008), Super Grover (2008, 2009), Elmo (2009, 2010, 2011), Abby Cadabby (2012).
On December 23 and 24, 2011, Elmo hosted "Elmo's Movie Merry-Thon," a marathon of Christmas movies and specials, including Elmo's World: Happy Holidays! It was followed by Snooze-a-Thon, from 6pm on Christmas Eve through 6am Christmas morning, featuring sleep-related clips from shows including Sesame Street.
In Summer 2012, a number of Sprout programs, including Pajanimals, began airing on weekend mornings on NBC, a sister network of Sprout, as part of a block called NBC Kids.
By 2015, Sesame Street and Play With Me Sesame, as well as most PBS Kids programs, were gradually phased out and no longer air on the channel. In September 2016, The Furchester Hotel was added to the channel's roster. 
In May 1, 2017, NBCUniversal announced that Sprout would rebrand as Universal Kids. The change occurred on September 9 of that year. Until early 2018, Sprout continued to live on as a block running from 3AM-6PM. The Furchester Hotel was carried over to the new channel and continued airing until March 2019. It's a Very Merry Muppet Christmas Movie aired during their holiday schedule in 2018.