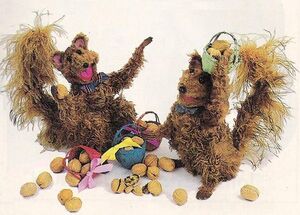 Squirrels, while never reaching the iconic status of the penguins or even the rabbits, have appeared in several Muppet productions. The squirrel in the Swedish Chef sketch on episode 401 of The Muppet Show was performed by Steve Whitmire.
The squirrels had a memorable scene in the 1977 television special Emmet Otter's Jug-Band Christmas in which they perform an acrobatic act for the talent show. For the 2008 stage musical update, their roles are expanded in a number of short scenes that take place during set changes. Most of the time, they speak in "squirrel" but prove able to communicate with Jane and even perform a song with her, "Trust." Later, during the talent show, their act is helmed by Madame Squirrel, a human-sized, costumed character who leads the performance. The four hand puppet squirrels were named Skippy, Junior, Jiffy and Nutella.
Filmography
See also
Community content is available under
CC-BY-SA
unless otherwise noted.