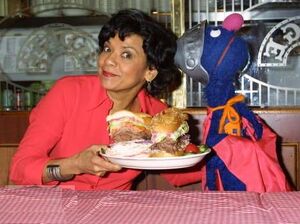 The Stage Deli is a New York City delicatessen famous for both its Celebrity clients and its menu, which often references celebrities.
First opened in 1937 by Russian immigrant Max Asnas, the deli features sandwiches named after Broadway shows, and holds events, such as the annual Matzoh Bowl.
In celebration of episode 4000, Sonia Manzano and Super Grover made an appearance on February 27, 2002 to introduce a sandwich named after Super Grover, which is made with turkey and brisket topped with lettuce, tomato, onion and horseradish sauce, and served on a sesame hero.
External links