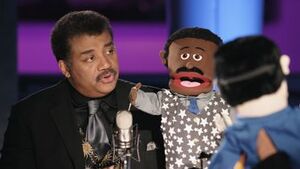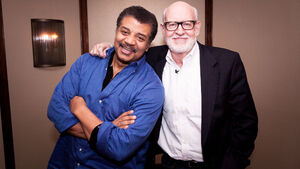 StarTalk is an American talk show hosted by Neil deGrasse Tyson that airs on the National Geographic channel. StarTalk is a spin-off of the podcast of the same name, in which Tyson discusses scientific topics through one-on-one interviews and panel discussions. The series premiered on April 20, 2015. Space.com called it the "first-ever science-themed late-night talk show."
Frank Oz appeared in the 16th episode of the fourth season entitled "Frank Oz and the Science of Puppeteering" (air date February 4, 2018). In the episode, Tyson features his interview with Oz, then discusses puppets in pop culture with Adam Conover and Charles Liu.
Other guests on the program have included George Takei, Jimmy Carter, Bill Clinton, Seth MacFarlane, Penn and Teller, Susan Sarandon, Whoopi Goldberg, Christopher Lloyd, Brian Greene, Jeremy Irons, Ben Stiller, Buzz Aldrin, Terry Crews, Jay Leno, William Shatner, Herbie Hancock, Kareem Abdul-Jabbar, Katie Couric, Kevin Smith, Katy Perry, Adrian Grenier, Alan Alda, Stephen Colbert, and Janelle Monáe.
External links