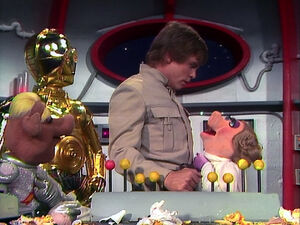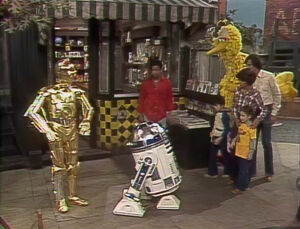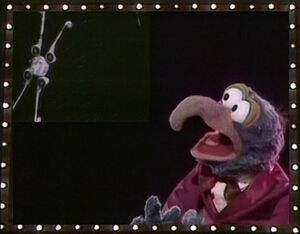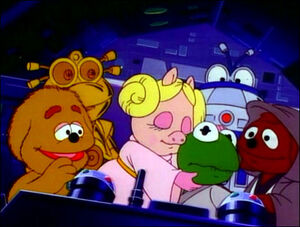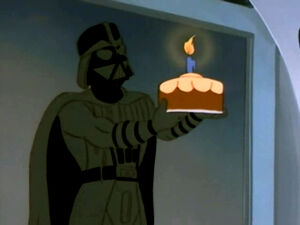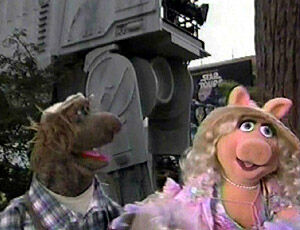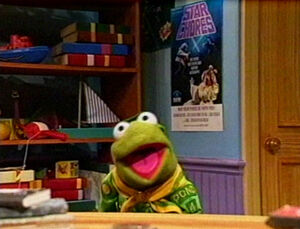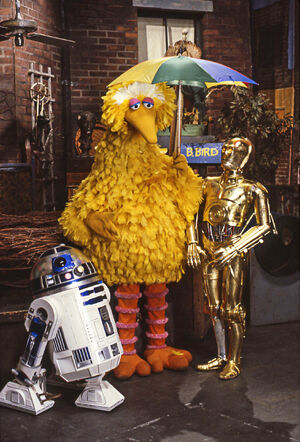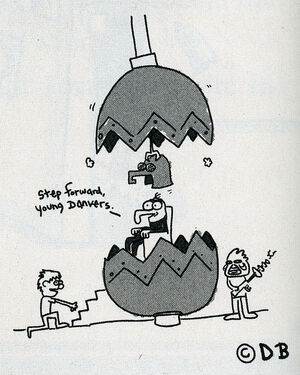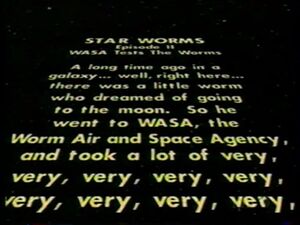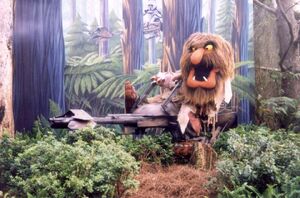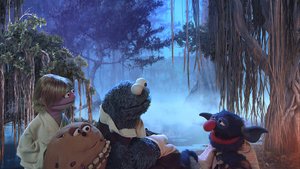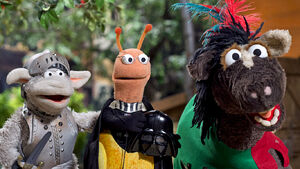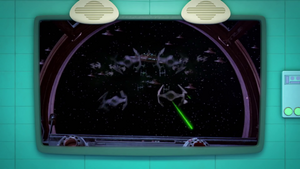 Star Wars is a science fiction franchise beginning in 1977 that consists of movies, TV shows, books, comic books, and a wealth of merchandise and other spin-offs. There are many connections between Star Wars and The Muppets, perhaps most notably the presence of Frank Oz's Star Wars character Yoda, who has often been misidentified as a Muppet. The properties are both owned by The Walt Disney Company; The Muppets were purchased in 2004, and Star Wars in 2012.
In 1999, Star Wars Insider noted, "There seemed to be a kind of natural synergy between Star Wars and the Muppets almost immediately," to which Frank Oz replied:
"I think that's true. Certainly, they both had the vitality and purity and joy and dreaming, and there's certainly geniuses behind both of them. George and Jim worked together on Labyrinth, and I think that which got them together was that synergy. There was an awareness and an appreciation. They are both very unique individuals, and I think they both wanted to work with each other, because they were very similar - very smart, very quiet, very strong people.[1]"
This article chronicles general appearances, crossovers, and parodies between the two franchises. For more details see our articles for Yoda, Dearth Nadir, C-3PO and R2-D2, Luke Skywalker, Chewbacca, and George Lucas.
Guests
References
The Muppets
In addition to other obvious references, episode 417 also features some Star Wars memorabilia in Scooter's bedroom during "Six String Orchestra." His bedroom wall is decorated with a photo of Luke Skywalker and a poster of a Star Destroyer.
A photo of the backstage bulletin board on the back of The Muppet Show 2 LP features a paper cut-out of a stormtrooper from Star Wars.
In 1980, ITC Distribution France released

a poster print

(and later, postcards) of the Muppet characters in a Star Wars spoof titled, "La Guerre des Muppets" (Muppet Wars). The scene is a take on the "Style A" theatrical one-sheet for the 1977 film with Kermit as Luke Skywalker, Miss Piggy as Princess Leia, Gonzo as Darth Vader, Fozzie Bear as C-3PO and Lew Zealand as R2-D2.
Appearing on The Big Breakfast in 1996, Piggy claims she's going to be the next Chewbacca in the new Star Wars movies.
In the 1999 film Muppets from Space, the Cosmic Fish bid farewell to Gonzo saying "May the Fish be with you," a reference to Star Wars' famous line, "May the Force be with you."
At the beginning of the commentary track for Muppets from Space, Kermit leaves to get popcorn and doesn't return until the end of the movie (Steve Whitmire plays Rizzo throughout the majority of the commentary track). Upon his return, he explains that he went back into the wrong movie. "I was halfway through it before I realized that wasn't Gonzo. It was Jar Jar Binks!"
For the July 2008 Star Wars Weekends in Walt Disney World, a set of six PVC figures were released featuring the Muppets as Star Wars characters.
Sesame Street
James Earl Jones (voice of Darth Vader) guest stars as a flamboyant version of himself in episode 1148. A star-struck Maria waves goodbye by saying "May the force be with you."
In Episode 2464, Big Bird and Anna imagine themselves in a Star Wars-inspired situation. Anna plays "Luke Cloudwalker" and Big Bird plays "Big-2 Bird-2," with a fire hydrant as Garth Raider.
In the computer game Ernie's Adventures in Space, Ernie visits Count von Count in "Cloud Castle City" (in reference to a location from The Empire Strikes Back). Later, he and Bert hum along to the closing credit score. At one point, Ernie starts humming the "Imperial March."
When the "Slimey to the Moon" episodes were rerun during the end of 1999, they were billed as "STAR WORMS" and open with a text crawl (narrated by Baby Bear) based on the ones that open each Star Wars film.
In Sesame Street Episode 4234, Virgil von Vivaldi presents a limestone rock with a lute for his "rock" band. He tells the rock: "Use the force, lute."
In the "Super Grover 2.0" sketch "The Cart Before the Horse," Super Grover 2.0 tries to find a force big enough to move a cart with a horse in it. During the sketch, he uses many lines from Star Wars involving "The Force," such as, "The force is strong in this one" and "Use the force."
In the Once Upon a Monster level "Seamus the Brave," the monsters put on a play by Seamus called The Emperor's New Clothes 2: The Emperor Talks Back.
In the "Elmo the Musical" segment, "Pizza the Musical," Elmo is confronted by a space chicken (referred to at New York Comic-Con as "Darth Chicken," played there by John Tartaglia), who wears a Darth Vader-esque outfit and pilots an egg-shaped Death Star. In the online game version of the segment, Elmo encounters a different space chickens operating toll booths. The chicken dons different disguises, including a Darth Vader outfit, a Stormtrooper uniform and Boba Fett.
In Sesame Street Episode 4504, Leela dresses as her favorite number heroine, Princess Three-ah.
In a 2017 Vanity Fair video, Rosita utters "Help me, Obi Wan Kenobi. You're my only hope."
International Sesame Street
Muppet Babies
Muppet Babies made several references to Star Wars over the course of 107 episodes, often incorporating footage from the films (and many others) into the narrative. While film footage was often from titles that had fallen into the public domain, some (including Star Wars) were still licensend to other production companies. While researching material for Jim Henson: The Biography (but ultimately omitted from the print edition), Brian Jay Jones learned from Muppet Babies producer and creative director Michael K. Frith that Lucasfilm footage wasn't always cleared for use before the episode was finalized, but added that the rights may have been procured after the fact.[3]
Nanny Vader is one of several babysitters the babies imagine will take care of them when Nanny goes away in "Around the Nursery in 80 Days." Using footage from the Star Wars movies, Nanny Vader recruits the babies as stormtroopers aboard an Imperial Star Destroyer where they receive training in how to wield a lightsabre. Outside of their imaginations, it's revealed that Baby Animal has been standing in for Nanny Vader wearing a Darth Vader helmet.
The episode "The Weirdo Zone" visualizes Baby Gonzo's mind being blown by playing the scene of

the Death Star exploding inside his eyes

.
In "Happy Birthday, Uncle Piggy," footage of Darth Vader from The Empire Strikes Back is used on Baby Scooter and Skeeter's spaceship, instructing the babies to buckle their seatbelts. He then appears in animated form, delivering birthday cake.
In the 2019 episode "The Karate Club," Baby Fozzie is seen training with Baby Kermit in a shot referencing Luke's training with Yoda from The Empire Strikes Back.
In the 2021 episode "Muppet Space Camp," a scene from Return of the Jedi featuring TIE Interceptors, can be seen as Carlos trains in the flight simulator.
Other
Muppet Mentions
A behind-the-scenes mention is also relevant to the discussion of creating a romantically realistic fight choreography sequence in the documentary From Puppets to Pixels. See Yoda for more.
In the 2009 Star Wars reference book The Essential Atlas, Planet Koozebane is identified as a planet in the Star Wars galaxy. Koozebane had previously been mentioned in passing in 1996 and 2001 issues of the Star Wars Insider magazine.
The 2010 book Star Wars Art: Visions includes a commissioned piece of art by Peter de Sève called "Easy being green, it is not." The piece depicts Kermit fishing in a swamp, sitting next to Yoda. [1]
The 90-minute feature Star Wars Spoofs released on the 2011 Star Wars Blu-ray collection includes a clip from The Muppet Show episode 417 with Mark Hamill and the crew of the Swinetrek (from Piggy's appearance as Princess Leia to Gonzo's introduction as Dearth Nadir). A clip from Night at the Museum: Battle of the Smithsonian featuring Oscar the Grouch's complete cameo alongside Darth Vader is also featured.
Jim Henson's Creature Shop veteran Neal Scanlan served as the creative supervisor for the creature and special make-up effects in the Star Wars sequel trilogy and other adjacent projects. While working on The Rise of Skywalker, Scanlan created a character in homage to Ludo from Labyrinth (where he worked on Sir Didymus). The beast was originally part of a longer sequence that takes place on the ice planet of Kijimi, but it was omitted from the final cut of the film.[7]
Merchandise
Connections
In addition to Frank Oz and the aforementioned guests, many puppeteers, designers, and actors have worked in the Star Wars franchise as well as in Muppet/Henson productions.
See also
Sources
External links
Community content is available under
CC-BY-SA
unless otherwise noted.