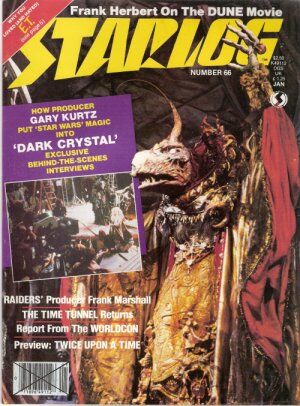 Starlog was a monthly magazine that began in 1976 and ceased publication in April of 2009. It covered news items of general interest to fans of science-fiction and fantasy. It was available by subscription and at newsstands in both the United States and Canada. Much of the magazine's content was also featured at its official website.
The magazine regularly covered TV shows and movies such as Star Trek, Star Wars, Farscape, and Battlestar Galactica. It also included articles on animated feature films such as Shrek and Charlotte's Web, books, websites, and other media.
Articles and Appearances
Starlog #65, December 1982, "The World of The Dark Crystal" Archive.org
Starlog #69, April 1983, behind-the-scenes photos of puppetry and workshop on The Dark Crystal Archive.org
Starlog #84, July 1984, "Frank Oz: The Man Beneath Yoda, Behind Miss Piggy & Slightly to the Left of Fozzie Bear". Archive.org
Starlog #107, June 1986 featured Labyrinth for the cover photo and had an article on the movie. Archive.org
Farscape articles have appeared in Starlogs #261, #279, #285, #308, #328, #329, #330, #331, #332, #333, and #344. Starlog #344 contains a detailed interview with Farscape cast member Ben Browder, which also discusses his roles on programs such as Stargate SG-1. The article discusses in detail his transition from one program to the next, noting "The transition from Farscape to Stargate began while Browder and company were providing closure for the former series with a final four-hour mini-series, The Peacekeeper Wars."
An interview with Frank Oz is featured in Starlog #343 beginning on Page 62. Titled "Master of Yoda," the article discusses his Star Wars work and Yoda, but also extensively features his work in regards to Muppet characters, with photos. There are photos of Fozzie Bear, Miss Piggy, Animal and group shots from The Muppet Movie and The Great Muppet Caper. In regards to simply doing the voice of Yoda instead of puppeteering him, Oz states "Just voicing Yoda is a thousand-fold easier [than puppeteering him], because I'm not doing the work. [Animation director] Rob Coleman and the animators do all the work now." He states, however, that even though he's only doing the voice now, he "doesn't feel any less of a connection" to Yoda. The article also notes that "For many years, whenever Oz was recognized by fans, it was for his portrayal of Miss Piggy. Nowadays, Yoda seems to have supplanted the Muppet diva in the eyes of the public." A set of cartoons, "Oz Toons" follows on Page 67. They feature both Star Wars and Muppet characters.
References