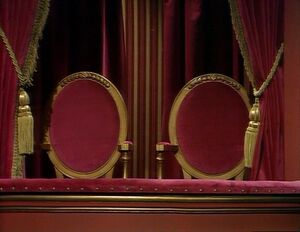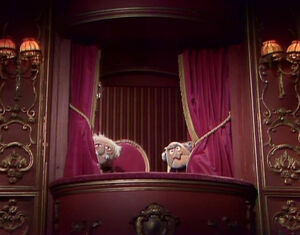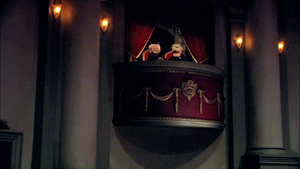 Statler and Waldorf's box is the balcony where Statler and Waldorf sit as they comment unfavorably on The Muppet Show.
Notable events
In episode 310, Kermit tries to hide in the box, but Statler and Waldorf throw him right off.
In episode 315, Gonzo unveils his new act, riding his motorcycle up a ramp and into Statler and Waldorf's box, first taking the precaution of chaining them to their seats. Of course, the bike doesn't even get up the ramp... the first time.
In episode 316, Janice and Floyd spend the episode in the box after Statler and Waldorf promptly leave during the opening credits. It is later revealed that they did so because they thought the guest star was Manny Kaye, the tuned clam player. (as opposed to real guest star Danny Kaye)
Episode 514 is the only episode that features a view of the stage from the balcony.
In episode 517, Kermit and Fozzie occupy the box while Statler and Waldorf try to run the show.
Trivia
"Statler and Waldorf's Balcony" appears as a property on the Monopoly: Muppets Edition game board, in place of Atlantic Avenue.
It was again replicated as a balcony to their home in the 2018 version of Muppet Babies, and in the Muppet Babies' imagination inside The Muppet Theatre, where, for their first appearance inside the theater in the episode "My Brother Vinny," they appear in the box opposite to the stage. This is likely due to the fact that the Nursery's stage in the backyard places it to the right from the duo's balcony. Their later appearance in the episode "Block Busters" has them appear in their usual box.
See also