While very few members of Statler and Waldorf's family have appeared in puppet form (Waldorf's wife and Statler's grandson being among the few), several made appearances in The Muppet Show Comic Book: On the Road. The pairs are mostly close doppelgängers to Statler and Waldorf.
Hillbilly cousins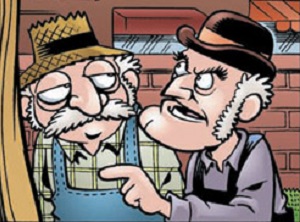 Statler and Waldorf's hillbilly cousins appear in the first issue of On the Road. They look almost exactly like Statler and Waldorf but wear more country-style clothing. The two heckle the show sitting up on the limb of a tree, rather than a balcony.
It is implied for certain that the one resembling Waldorf is Waldorf's cousin, as upon seeing a flyer for The Muppet Show, the Statler-doppelgänger asks his friend if this is the show his cousin had told him about it.

Mr. Stadler and Mr. Waltorf
Mr. Stadler and Mr. Waltorf appear in the second issue of On the Road. They are comedy writers who work for Clint Wacky, though their material comes from Christmas crackers. The pair looks exactly like Statler and Waldorf, right down to the clothing; although their exact relation to Statler and Waldorf is unknown. The pair hails from the town of Little Stadwalt.

The residents of Little Stadwalt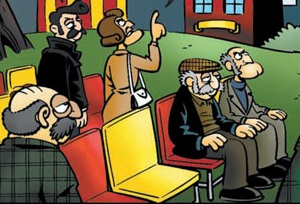 Little Stadwalt is a small town known as the home of only two families, who are most likely related to Statler and Waldorf in some way. The residents are all similar to Statler and Waldorf in appearance and attitude towards the Muppets and heckling the show. They do however all enjoy the comedy of Clint Wacky, perhaps because his act is mainly comprised of insults.

See also
Community content is available under
CC-BY-SA
unless otherwise noted.