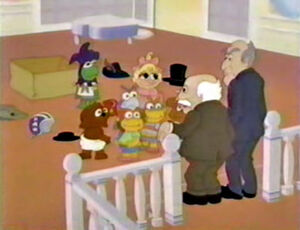 Uncle Statler and Uncle Waldorf are animated versions of Statler and Waldorf as seen in Muppet Babies. Introduced in 1990, the pair appeared semi-regularly during the series' final two seasons. As implied by their "uncle" titles, the two were more kindly and avuncular than they are on The Muppet Show and only occasionally crotchety. They often brought such items as hats or model train sets into the nursery, and waxed nostalgic over the past.
Statler and Waldorf also appear in the 2018 Muppet Babies series as Mr. Statler and Mr. Waldorf and are the neighbors of Miss Nanny. Much like their Muppet Show counterparts, the duo will heckle the Muppets from the comfort of their balcony when the babies are outside playing, but they're a bit nicer to them.
Appearances
Gallery
Community content is available under
CC-BY-SA
unless otherwise noted.