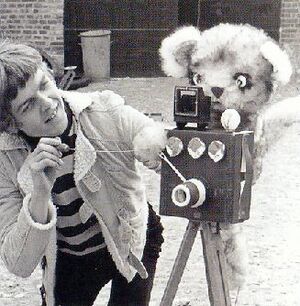 Stef van der Linden (Nijmegen, July 13, 1952 - Blaricum, October 27, 2006) played Tommie on Sesamstraat, the Dutch co-production of Sesame Street, from 1976 to 1977.
Stef van der Linden, known for years of the singing duo the "Boli's" with Marijke Boon, comes through his older brother Dorus van der Linden on television. Ton Hasebos, the first director of Sesame Street asks Dorus who designed the Sesame Street backdrop and model for the filming in Limburg, if he knows an "handyman" for the set. Dorus' brother Stef is just graduated from the Academy for expression in Utrecht and does have ears that function.
Hasebos Stef asks whether he has had puppet theater at the academy. A puppet made from Mrs. Hasebos' old fur coat is 'Tommie' is born.
The original Tommie, a teddy bear type creature that walked on fours, made from an old fur coat, did not have a hoarse voice yet. Van der Linden gave him a high enthusiastic voice instead. His catchphrase was "Weerrrrr niet gelukt!" ("Failed again!") whenever one of his inventions exploded.
After leaving the series, van der Linden later joined the cast of Klokhuis (an informative TV show for a slightly older audience) in the same studio. He also worked as Decor designer for several productions and shows.
After Sesamstraat he had a small sing carrier with Marijke Boon as "De Boli's" (1980-1984). And followed up his brother Dorus as designer for the children's program "Het Klokhuis".
Van der Linden's Tommie can be heard on the original Sesamstraat soundtrack.
Community content is available under
CC-BY-SA
unless otherwise noted.