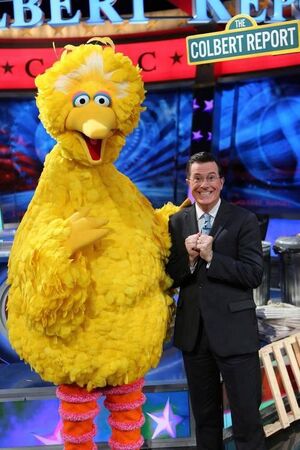 Stephen Colbert (b. 1964) is a comedian who became famous as a correspondent for The Daily Show. He subsequently hosted his own series, The Colbert Report from 2005 to 2014. Starting in 2015, Colbert took over for David Letterman as host of The Late Show on CBS.
In 2005, Colbert starred as the letter Z in the Sesame Street video All-Star Alphabet. Additionally, several Muppets—including Kermit the Frog, Big Bird, Oscar the Grouch and Cookie Monster—appeared as guests with Colbert on The Colbert Report. He also appeared with Big Bird in a brief clip in the 2014 YouTube year-in-review "Rewind" video. (YouTube)
In 2007, Colbert briefly launched a campaign for President of the United States in South Carolina. Colbert's other accomplishments include a controversial performance at the 2006 White House Correspondents' Dinner, being a cast member of The Dana Carvey Show, co-creating and starring in the TV series Strangers with Candy, and providing voice-overs on such programs as Crank Yankers, Saturday Night Live, and The Simpsons.
External links