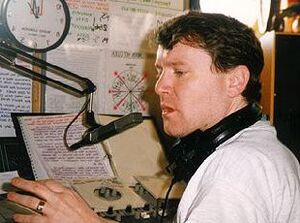 Stephen Garlick (b. 1959), also known as Steve Garlick, is a Welsh actor and radio personality who supplied the voice of Jen in The Dark Crystal.
As a child actor, Garlick had small roles in the films Carry On, Doctor (1967) and Scrooge (1970), before a role in a ten part serial on Look and Read (as Dan in "The Boy from Outer Space."). As a teenager and young adult, he also played serial characters in storylines on the sci-fi series The Tomorrow People (as Kwaan in "Into the Unknown") and Doctor Who (as Hippo Ibbotson in "Mawdryn Undead").
In the 1980s, Garlick transitioned into radio, working with BBC 7 and Thames FM, and is currently a regular presenter on UK rock and roll station Big L 1395.
External links
Community content is available under
CC-BY-SA
unless otherwise noted.