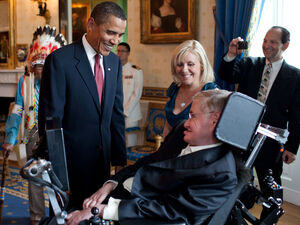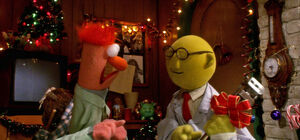 Stephen Hawking (1942-2018) was an English theoretical physicist and cosmologist, whose scientific books and public appearances have made him an academic celebrity.
His 1980 book A Brief History of Time was a break-out hit when first published, and has sold over 10 million copies, having been translated into over 30 languages. His other books include The Universe in a Nutshell (2001), The Grand Design (2010), and three children's books co-authored with his daughter Lucy Hawking, George's Secret Key to the Universe (2007), George's Cosmic Treasure Hunt (2009), and George and the Big Bang (2011). His life was also documented in a book by his first wife Jane Wilde Hawking, Travelling to Infinity – My Life with Stephen in 2008, which was adapted to film in 2014 as The Theory of Everything.
Hawking has appeared as himself, and lent his recognizable computer voice, in a number of TV series including Star Trek: The Next Generation, The Big Bang Theory and episodes of The Simpsons and Futurama. He has been portrayed on film by Benedict Cumberbatch, and Eddie Redmayne (Les Misérables), and has been the subject of, and appeared in, several documentaries including Errol Morris' A Brief History of Time (scored by Philip Glass), God, the Universe and Everything Else (with Arthur C. Clarke and Carl Sagan), and 2013's Hawking (featuring interviews with Cumberbatch, Buzz Aldrin, and Jim Carrey). Other appearances include being interviewed for the 2013 TV special Doctor Who Live: The Next Doctor, Last Week Tonight with John Oliver, and appearing in sketches on Late Night with Conan O'Brien (via satellite) and Monty Python Live (Mostly) in 2014.
In a video for Red Nose Day 2017, Miss Piggy was among the celebrities auditioning to be Hawking's new voice. She asks Hawking, addressing him familiarly as "Stephen", if he's thinking that science can be sexy. After posing, she asks, "I know. Hot, right?" Other celebrities who "auditioned" include Liam Neeson, Anna Kendrick, Rebel Wilson, Stephen Fry, Simon Cowell, Gordon Ramsay, Andrew Lloyd Webber, Geri Halliwell, Siri, Bill Gates, Kylie Minogue, Lin-Manuel Miranda, Felicity Jones, John Boyega, and Eddie Redmayne. The sketch ends with Hawking finally choosing Michael Caine as his new voice.
References
Following news of Hawking's death, Dr. Bunsen Honeydew tweeted from @TheMuppets, "We at Muppet Labs owe a great deal to Professor #StephenHawking. His brilliance was unparalleled and his sense of humor was highly hilarious. He truly was the future today!" Bunsen's tribute ties Hawking into the Muppet Labs motto, "where the future is being made today." [1]