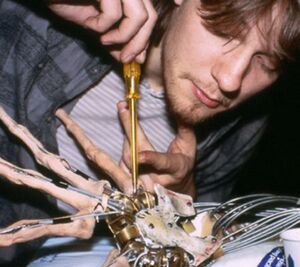 Stephen Norrington, usually credited early on as Steve Norrington, is a special effects designer who later became a film director. Norrington spent a stint with Jim Henson's Creature Shop, having previously worked with much of the same crew on Return to Oz (where he helped operate the Gump and was a designer). He worked on several episodes of The StoryTeller (including "Hans My Hedgehog" and "The Soldier and Death"). For The Witches, Norrington designed the prosthetic makeup for the Grand High Witch.
Prior to the Creature Shop, Norrington had worked on Young Sherlock Holmes (animatronic supervisor) and Aliens (working on the chestbursters). He did much the same on Alien³ and handled makeup effects for Waxwork II: Lost in Time and Hellraiser: Bloodline.He made his debut as a director with Death Machine (1994, with William Hootkins), which he also wrote and handled effects for. In 1998, he directed Blade, based on the Marvel Comics character. His next film The Last Minute received only limited release, while another high-profile comic book adaptation, The League of Extraordinary Gentlemen (2003), was a notorious box-office flop. Norrington returned to mostly design and effects, working as an illustrator on Blade Trinity and sculpting creatures for Exorcist: The Beginning and Harbinger Down.
External links
Community content is available under
CC-BY-SA
unless otherwise noted.