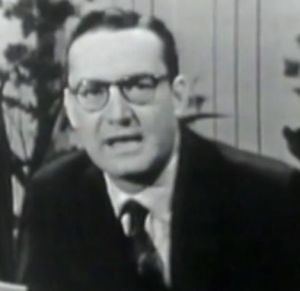 Steve Allen (1921-2000) was a musician, comedian and writer, who was instrumental in inventing the concept of the television talk show. He was the host of Tonight! from 1953 to 1957, and he also hosted The Steve Allen Show from 1956 to 1960.
In 1955, Sam and Friends was scheduled twice a day on the local Washington, DC network, at 6:25 and 11:25pm. The 6:25 show led into the national Huntley-Brinkley Report broadcast at 6:30, and the 11:25 show came before Tonight!'s start at 11:30. Jane Henson credits this scheduling as key to the early success of Sam and Friends: "We were handed the best possible audiences," she remembered in Jim Henson: The Works. "Everyone followed Huntley-Brinkley, and Steve Allen was extremely popular as well. It was an incredible break, and I never did know who was responsible for it."
Jim and Jane Henson got their first national exposure as guests on The Steve Allen Show on November 4, 1956.[1]
Allen also appeared in the 1979 special The Muppets Go Hollywood, as a guest at the Muppets' party.
In 1981, a PBS pledge season special entitled Something Spectacular with Steve Allen featured the American television debut of four UK spots from The Muppet Show: "Danny Boy", "I'm So Happy", "How High the Moon", and "Alley Oop". The end credits contained a special acknowledgment for Jim Henson and ITC.
External links
Sources
↑ Nachman, Gerald Right Here on Our Stage Tonight!: Ed Sullivan's America, University of California Press: Berkeley, 2009, 169.
Community content is available under
CC-BY-SA
unless otherwise noted.