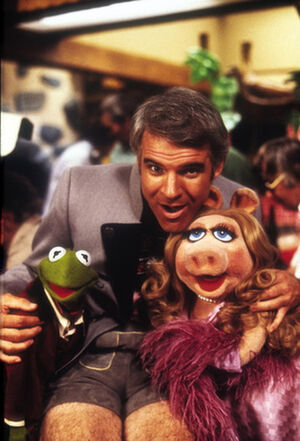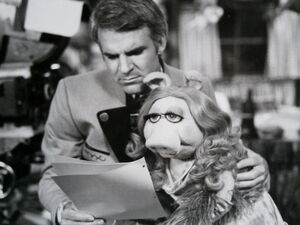 Steve Martin (b. 1945) is a comedian, actor, and writer. He guest starred on episode 208 of The Muppet Show and played Kermit and Piggy's sarcastic waiter in The Muppet Movie.
In 1985, he was featured on the cover and in an article of Muppet Magazine issue #10 alongside the Muppet Babies.
In 2013, Martin played "Dueling Banjos," a song which he previously performed opposite Lubbock Lou and his Jughuggers on The Muppet Show, with Kermit the Frog in a video for the website Funny or Die.
Sesame Street writers created a sketch about his feet expressing his emotions; Martin canceled, and was replaced by Jim Carrey.[1]
Martin has also appeared in several movies directed by Frank Oz -- Little Shop of Horrors, Dirty Rotten Scoundrels, HouseSitter and Bowfinger.
At a Hollywood Squares taping, Martin asked Debi Spinney out, not realizing she was married to Caroll.[2]
References
In Episode 416 of The Muppet Show, Jonathan Winters encounters an alien pretending to be him. Winters remarks, "Steve Martin, gosh, you'll do anything, won't ya?"
In Scene 2 of Episode 2020, Gordon responds to Oscar with a light "Well, excuuuse me!" a la Martin.
Sources
External links