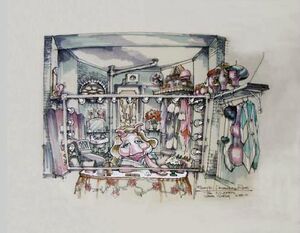 Steve Saklad was the production designer for the 2011 film The Muppets.
Saklad was assigned the task of creating the look of many of the locations in The Muppets, including Smalltown, USA. Saklad described the town as a "parallel universe" which has "a bit of Norman Rockwell, a bit of classic, Small Town, USA, look to it."[1]
For The Muppet Theatre, Saklad used an existing set built in 1925 for The Phantom of the Opera, while he transformed the Jim Henson Studios into The Muppet Studios. Other sets he designed for the film included the interiors and external additions for Kermit's mansion, Kermit's office, Miss Piggy's Dressing Room, as well as the Backstage area of the theatre.
Saklad also served as the production designer on Juno (featuring Jason Bateman, Jennifer Garner and Allison Janney), he provided additional photography for Twilight and was the art director on Spider-Man 2. On Broadway, he served as the assistant set designer for Jerry Herman's La Cage aux Folles, Brighton Beach Memoirs and Andrew Lloyd Webber's Starlight Express.
Sources
Community content is available under
CC-BY-SA
unless otherwise noted.