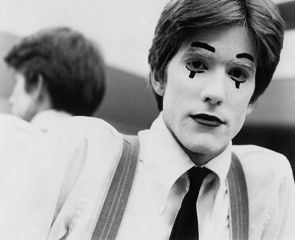 Steven Banks is a comedian, writer, and composer who was heard in the Dinosaurs episode "I Never Ate for My Father" as the Bob Dylan-ish Folk Singer. A graduate of Ringling Bros. and Barnum & Bailey Clown College, Banks soon befriended Penn Jillette, with whom he later wrote the play Love Tapes.
Banks first gained notice with his one-man show Home Entertainment Center, a self-written play about a young man struggling to meet a writing deadline and fighting his own tendency to distract and amuse himself; the play contained several songs written by Banks. The show was televised in 1989, and led to a special and short-lived sitcom, both titled The Steven Banks Show.
Banks continued to appear occasionally in film and television in the 1990s, guesting on Caroline in the City and Dharma & Greg, before moving into animation, scripting episodes of the Nickelodeon series CatDog, Jimmy Neutron, and SpongeBob SquarePants. He also reinvented himself as a performer, drawing on his earlier clown training to become Billy the Mime, performer of such routines as "John F. Kennedy Jr., We Hardly Knew Ye" and appearing in Jillette's film The Aristocrats.
External links