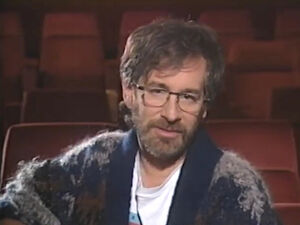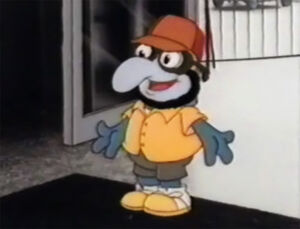 Steven Spielberg (b. 1946) is a film director of iconic status. Many of his films have been international box office champions, and have entered our pop culture lexicon. These include Jaws, Close Encounters of the Third Kind, E.T. the Extra-Terrestrial, Hook, the Indiana Jones movies, and Jurassic Park.
In 1990, he appeared in The Muppets Celebrate Jim Henson, presenting a special segment on Jim Henson's work in the fantasy genre of filmmaking.
In the 2007 TCM documentary Spielberg on Spielberg, the filmmaker discussed what inspired him to make Schindler's List. He recalls his grandmother teaching English to Nazi concentration camp survivors, one of whom would entertain the 3-year-old Spielberg with a trick involving the numbers printed on his arm. He cites this as sticking out in his memory for a time in his life when he was learning his letters and numbers, since in those days, there was no Sesame Street.
References
Spielberg was spoofed as fictitious director Stevens Peeledbird in the book, The Great Muppet Caper!: The Making of the Masterpiece.
In a "Miss Piggy's Advice" column from the Winter 1984 issue of Muppet Magazine, Piggy answers a letter from "A Secret Admirer" stating that she recently auditioned for Spielberg's new film "E.T. Goes Back to the Future for a Close Encounter with a Poltergeist". All four films referenced were produced by Spielberg.
Sesamstrasse, in episode 2371, parodied Spielberg as Hase Spielhaus, a hare who directs a commercial for lemonade.
In The Muppet Show Comic Book: On the Road #2, Clint Wacky says he's holding out for a call from George Lucas or Spielberg.
In the Muppet Babies episode "This Little Piggy Went to Hollywood," Baby Piggy dreams of being discovered by a famous director in a record store. In walks Steven Weirdbird (played by Baby Gonzo) looking to cast a role in his latest film, "ET's Close Encounter with Indiana Jaws."
In episode 109 of Muppets Tonight, Whoopi Goldberg and Miss Piggy appear in court before Judge Joseph A. Wapner in a flashback. He delivers a verdict in Goldberg's favor and says he wouldn't be surprised if a famous director contacted her. Goldberg replies, "You mean like Steven Spielberg?" Spielberg directed Goldberg in 1985 in The Color Purple, for which she was nominated for an Oscar.
On Mike's Super Short Show, Pepe tells his agent on the phone, "You tell Spielberg I'll do it, okay, but if I see any cocktail sauce on the set, I'm walking, okay?"
External links