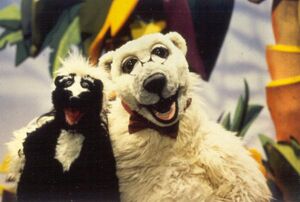 Stinky the Skunk is the co-host of The Animal Show.
Stinky is young and enthusiastic, and he still has a lot to learn. He is very proud of being a skunk and the way he smells.
His best friend and co-host is the wise and gentle Jake the Polar Bear.
The puppet was used for Snook from Bear in the Big Blue House.
The puppet would later show up in various Sesame Street episodes.
See also