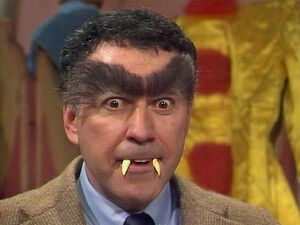 Strange Case of Dr. Jekyll and Mr. Hyde (reprints and adaptations often adding "The") is an 1886 novel. It recounts the experiments of Dr. Henry Jekyll to separate man's dual natures (towards vice and virtue). The resulting serum turns him into the evil, unbridled Mr. Hyde. Many adaptations of the novel have been made over the years, and the concept of transforming in both personality and physicality has inspired later works such as The Incredible Hulk.
The 1996 film Mary Reilly, adapted from a novel, retold the book's events from the perspective of his housemaid, and Jim Henson's Creature Shop was credited for "transformation effects."
References
In episode 420 of The Muppet Show, Dr. Bunsen Honeydew, for reasons best known to himself, invents an ultra-powerful Jekyll-Hyde potion. Upon consumption, it turns the drinker (be they guest star, frog, or rabbit) into a fanged, hairy-browed monster. As in many adaptations of Dr. Jekyll and Mr. Hyde, the effects of the potion wear off, but resurface later.
Connections
Community content is available under
CC-BY-SA
unless otherwise noted.