Released
2021
Duration
107 minutes
Director
Marilyn Agrelo
Music
T. Griffin
Studio
Macrocosm Entertainment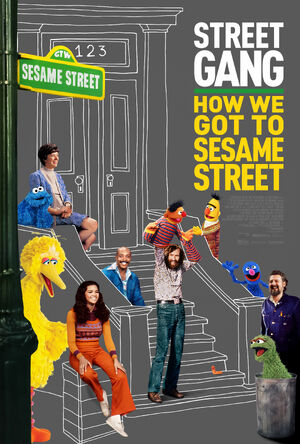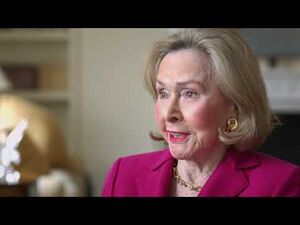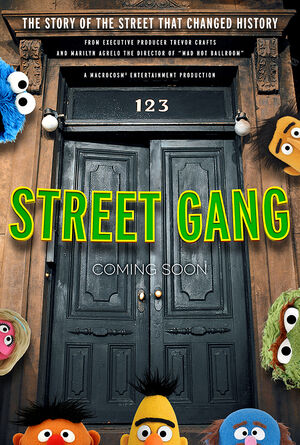 Street Gang: How We Got to Sesame Street, originally titled simply Street Gang, is a Sesame Street documentary based on the book of the same name by Michael Davis. Much like the book, the documentary focuses on the creation of the Children's Television Workshop and the development of Sesame Street during the first 20 years of the show.
The film was first announced in 2016, with Marah Strauch originally attached to direct.[1] Funding for the production was partially raised from an Indiegogo crowdsourcing campaign, which offered customized Sesame Street perks. When the campaign launched, the film was expected to have "a late 2017 or early 2018 release."[2] The film's release date was later pushed back to 2019,[3] then 2020,[4] before finally being released in 2021.
A companion book to the film, The Unseen Photos of Street Gang: How We Got to Sesame Street, was released in December 2021.
Premiere
Due to the COVID-19 pandemic, the film made its nationwide online world premiere on January 30, 2021 at the Sundance Film Festival, with a second screening on February 1. Geoblocking was set to keep the event limited to US audiences only.[5]
The film's Sundance premiere was followed by a publicly available Q&A session with the filmmakers (YouTube), as well as one of the festival's Cinema Café interviews featuring Sonia Manzano and Rita Moreno, both reminiscing about their careers and collaborations. (YouTube)
Distribution
Ahead of the film's Sundance premiere, the U.S. theatrical and home entertainment rights were acquired by Screen Media. The film was later announced for screenings around the country beginning April 23rd.[6][7] The film additionally received screenings at the Museum of the Moving Image in June.
The film became available to rent digitally on May 7th, with a DVD and Blu-ray release on July 6th.
In Fall 2018, the U.S. streaming and broadcast rights were acquired by HBO and the worldwide rights by Focus Features.[8]
In December 2020, WarnerMedia announced that the film, co-produced by HBO's Documentary Films division, would air on the network and be available to stream on HBO Max, with an eventual release date of December 13, 2021.[9][10]
Home Video Extras
Interviewees
Christopher Cerf, Roscoe Orman, Sonia Manzano, Kate Stone Lucas, Polly Stone, Joan Ganz Cooney, Lloyd Morrisett, Sharon Lerner, Lisa Henson, Brian Henson, Frank Biondo, Bob McGrath, Holly Robinson Peete, Matt Robinson, Jr., Dolores Robinson, Fran Brill, Emilio Delgado, Caroll Spinney, Oscar the Grouch, Nick Raposo, Norman Stiles
Archival footage interviewees: Jon Stone, Jim Henson, Frank Oz, Ernie and Bert, Joe Raposo
Notes
"The Muppet Wiki" is among those mentioned in the end credits under "The Producers Wish To Thank."
Credits
Director: Marilyn Agrelo
Produced by Trevor Crafts and Ellen Scherer Crafts
Producer: Lisa Diamond
Executive Producers: Lisa Heller, Nancy Abraham, Brian O'Shea, Nat McCormick, Matthew Helderman, Luke Taylor, Mark Myers
Co-Executive Producer: Michael Davis
Director of Photography: Luke Geissbühler
Editor: Ben Gold
Original Soundtrack Composed by T. Griffin
Archival Producer: Rich Remsberg
Associate Editor: Gil Choi
Sources
External links