This article is about an upcoming project, product, or production.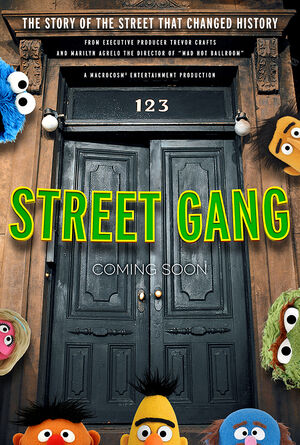 Street Gang is an upcoming Sesame Street documentary based on the book of the same name by Michael Davis. Much like the book, the documentary will follow the story of the creation of Sesame Street and the Children's Television Workshop.
The documentary will be directed by Marilyn Agrelo and jointly produced by Macrocosm Entertainment and Citizen Skull Productions. Funding for the production was partially raised via crowd-sourcing among fans on Indiegogo, offering customized Sesame Street perks.
The film was originally announced in 2016 with Marah Strauch as director,[1] and its release date has been pushed back several times. When its IndieGogo campaign first launched, it was expected to have "a late 2017 or early 2018 release."[2] In Fall 2018, the U.S. rights to the film were acquired by HBO and the worldwide rights by Focus Features.[3] The film was later advertised with a 2019 release,[4] then 2020.[5]
In December 2020, WarnerMedia announced that the film, releasing under HBO's Documentary Films unit and gaining the subtitle "How We Got to Sesame Street," would air on the network and be available to stream on HBO Max in 2021.[6]
Sources
External links
Community content is available under
CC-BY-SA
unless otherwise noted.