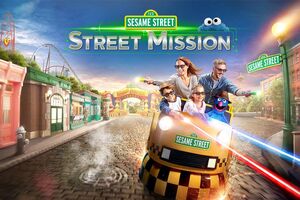 Street Mission is a Sesame Street dark ride at PortAventura in Spain. The ride, which first opened on April 6, 2019, is located in the SesamoAventura section of the park.
Synopsis
"Detective Grover will be your guide through this interactive adventure, urging guests to collect clues that will help solve a mystery happening on Sesame Street. With numerous animatronic characters, immersive scenery, and interactive gameplay, this mixed media attraction will appeal to guests of all ages.[1]"
Features
The ride combines animatronic figures created by Sally Dark Rides and Jim Henson's Creature Shop with "over 2,000 clues/targets (virtual and practical) inside the ride, a total of 8 projection screens (ranging from 30 to 70 feet wide): 4, projection-mapped screens on dimensional sets with practical target integration; 1, ninety-degree curved screen with animatronic and show element syncing; 2, 180 degree curved, fully immersive screens allow us to fly through Count's castle and dive down into Oscar's trash can; 1, flat screen with Hall of Fame scoreboard feature".[1]

Awards
The attraction won IAAPA: International Association of Amusement Parks and Attractions Europe awards for Best New Ride in Europe (European Star Award) and Family Ride of the Year (ParkWorld Excellence Award).
Trailers
Teaser via PortAventura's Instagram. Link
Trailer released on March 24, 2019, revealing title and ride vehicle. Link
Characters
Credits
Ride Creation: Sally Dark Rides
Creative Director for Sally Dark Rides: Rich Hill
Animation: Bon Art Studio
Scenic: Sim Leisure
Lighting: Technilux
Audio: Bose
Scenic Design: Brian Morrow Productions
Music: John Baker
Creative Director for Sesame Workshop: Kip Rathke
Character gallery
Sources
External links
Community content is available under
CC-BY-SA
unless otherwise noted.