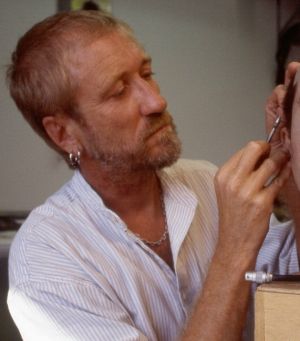 Stuart Artingstall is a wigmaker, specializing primarily in special effects or make-up work. He worked with Jim Henson's Creature Shop on early projects, providing wigs and body hair for creatures in The Dark Crystal (including Jen), Dreamchild, and Labyrinth. He also worked with much of the same crew on the non-Henson Return to Oz.
Artingstall has worked with the top make-up and effects designers, including Rick Baker (on Harry and the Hendersons) and Stan Winston (on many projects). One of Artingstall's more high-profile assignments was designing Gary Oldman's hair as Dracula. He often worked on apes, gorillas, or caveman characters, as in Quest for Fire, Gorillas in the Mist, a TV Murders in the Rue Morgue, and Congo. He also worked on aliens and age-affected hair in Cocoon, ghosts in High Spirits, the title beast on the TV series Werewolf, and Splinter in Teenage Mutant Ninja Turtles III. He handled the hair on Matthew Broderick's animatronic double in Inspector Gadget, worked on The Lost World: Jurassic Park, and made wigs for TV movie impersonations of President Truman in Truman and of Sonny and Cher in And the Beat Goes On.
Artingstall currently owns Mane Sta' Lace, a Los Angeles shop selling a special lace for costume/make-up wigs and hair
Creature Shop credits
External links
Community content is available under
CC-BY-SA
unless otherwise noted.