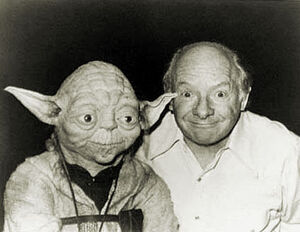 Stuart Freeborn (1914-2013) was a British make-up artist best known for his work on science fiction and fantasy films, particularly the Star Wars saga. Freeborn provided make-up and creature designs for the first three films in the franchise, and is credited as the creator of Yoda (with the assistance of Frank Oz, Wendy Midener, and other Muppet veterans). He also designed and built the costume for Chewbacca and oversaw the creation of Jabba the Hutt.
In a less exotic capacity, Freeborn worked directly with Jim Henson on The Great Muppet Caper as make-up supervisor for the human cast members.
Freeborn's other make-up credits covered a range of prosthetic transformations for many stars. Notable examples include Alec Guiness' outsized nose as Fagin in Oliver Twist, Red Skelton as a neanderthal in Those Magnificent Men in Their Flying Machines (also with Robert Morley and Gordon Jackson), Albert Finney's Hercule Poirot in Murder on the Orient Express, and Peter Sellers as three separate characters in both The Mouse That Roared and Dr. Strangelove or: How I Learned to Stop Worrying and Love the Bomb.
For the Superman movies, he enhanced the Man of Steel's costume, applied Lex Luthor's bald pate, and ensured that Christopher Reeve's hairstyles for Clark Kent and Superman were kept distinct. Freeborn also oversaw the make-up of Gregory Peck and the creation of realistic dog puppets for The Omen.
External links