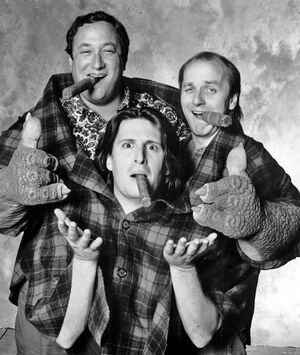 Stuart Pankin (b. 1946) is a character actor who supplied the voice of Earl Sinclair on Dinosaurs. For the tie-in album Big Songs, he also wrote lyrics for "I'm the Baby (Gotta Love Me)" and "He's a Lizard."
Pankin's television credits include regular roles on the prime-time soap operas Knot's Landing (as Benny Appleman) and Falcon Crest (as Jace Sampson), plus regular comedy roles on Not Necessarily the News and No Soap Radio and guest appearances on Malcolm in the Middle, Barney Miller, Dharma & Greg, and Curb Your Enthusiasm.
Film roles include the blustery sheriff in Archnophobia, a sleazy lawyer in Mel Brooks' Life Stinks, and Rick Moranis' brother in Honey We Shrunk Ourselves, along with principal supporting parts in Love at Stake, Fatal Attraction, and Squanto: A Warrior's Tale.
External links