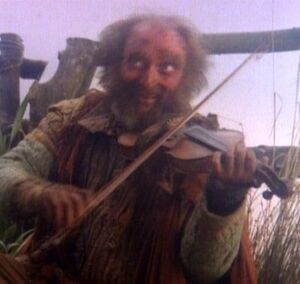 Stuart Richman is a British actor who played the fiddling beggar in The StoryTeller episode "The Soldier and Death."
Richman has been active on British television since the seventies, usually cast as doctors, businessmen, or court officials (magistrates, prosecutors, etc.). He played many of the latter in multiple episodes of Emmerdale and recurred on Brookside as Dr. Metcalfe, plus appearances on Coronation street, Z Cars, and the 2002 version of The Forsyte Saga.
Since 1980, Richman has also been heard in scores of BBC radio plays and serials. In film, he appeared in Reds (as Leon Trotsky), Chaplin (as a barman), and Photographing Fairies (with Ben Kingsley).
External links