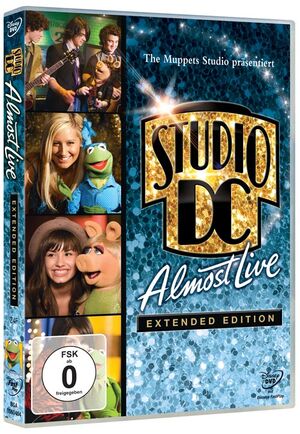 Studio DC: Almost Live - Extended Edition is the German dub DVD release of the TV-specials Studio DC Hosted by Dylan and Cole Sprouse and Studio DC Hosted by Selena Gomez. Both had previously aired on the German Disney Channel (pay-TV); the first show premiered on December 24, 2008 and the second one on February 21, 2009.
The compilation features the original English, as well as the German and Italian sound tracks, and subtitles in English, German, Italian, Danish, Dutch, Finnish, French, Norwegian and Swedish.
Additional scenes
As both specials appear in an extended edition, a few scenes that had previously been cut from the TV version were edited back in, offering a running time of about 60 minutes for both specials combined.
Among these is a scene in which Miss Piggy (accompanied by Rowlf the Dog on the piano) pitches her own version of "That's Just the Way We Roll" to the Jonas Brothers, a scene in which Piggy accidentally changes into a clown costume for her number with the Cheetah Girls, and several scenes revolving around The Swedish Chef making smoothies for Moises Arias, Jake T. Austin, Selena Gomez and Demi Lovato.
The last 9 minutes of the special, immediately after the end credit roll, consist of of bloopers, outtakes and a rendition of the Burt Bacharach song "That's What Friends Are For".
Special features
Additionally the DVD release offers the following bonus content (with a total running time of 16:38 minutes):
Voices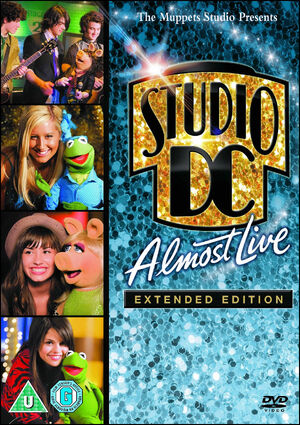 With a few exceptions of voice artists that have been around since Die Muppet Show, this dub features the third set of German voice artists that have been voicing the Muppets since Muppets Der Zauberer von Oz.
Crew
Community content is available under
CC-BY-SA
unless otherwise noted.