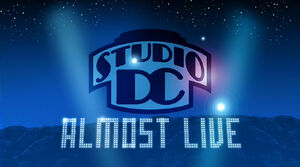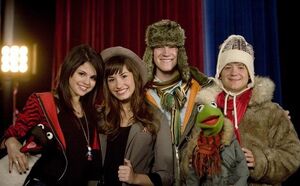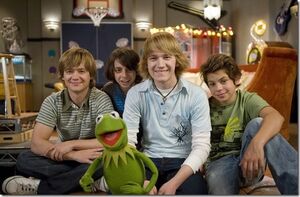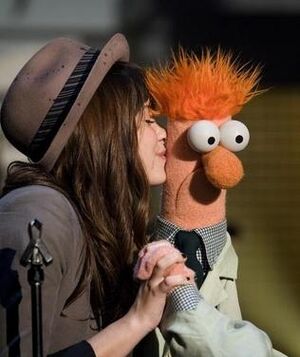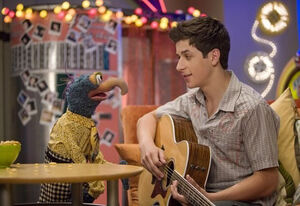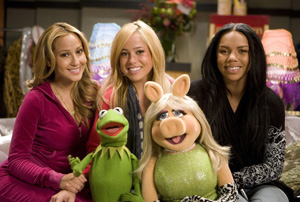 Studio DC Hosted by Selena Gomez is a Disney Channel special which first aired on October 5, 2008. It is a collaboration between The Muppets Studio and Disney Channel in an effort to introduce the Muppets to a younger audience, and a follow-up to Studio DC Hosted by Dylan and Cole Sprouse.
Sketches included the Cheetah Girls performing "Dance Me if You Can" with Miss Piggy, Demi Lovato performing "This is Me" with Beaker ("after a jealous Miss Piggy drags Kermit the Frog off the stage"), Selena Gomez learning the art of joke-telling from Fozzie Bear, Statler and Waldorf teaching the art of criticism to Moises Arias and Jake T. Austin, Jason Earles and Jason Dolley visiting the Swedish Chef's craft services table, and David Henrie and Floyd Pepper playing guitar.
Portions of the special have subsequently aired on the Disney Channel as music videos running in-between other programming.
Guest stars
Muppets
Kermit the Frog, Miss Piggy, Fozzie Bear, Gonzo, Camilla, Rizzo the Rat, Pepe the King Prawn, Statler and Waldorf, the Swedish Chef, Floyd Pepper, Animal, Dr. Teeth, Janice, Beaker, Scooter, Penguins
in opening sequence only: Dr. Bunsen Honeydew, Rowlf the Dog
in extended edition sequence only: Bobo the Bear, Whatnots
Credits
The Muppet Performers: Steve Whitmire, Dave Goelz, Eric Jacobson, Bill Barretta, David Barclay, Tim Blaney, BJ Guyer, Bruce Lanoil, Lara MacLean, Paul McGinnis, David Rudman, Michelan Sisti, Matt Vogel
Executive Producer: Martin G. Baker
Producers: Ritamarie Peruggi, Jim Lewis, Kirk Thatcher
Written by: Matt Leuthe, Steve Millunzi
Directed by: Krash R. Davenport
The Muppets Studio Workshop: Paul Andrejco, Lisa Davis, Stephan Rotondaro, Gretchen Crookes, Peter MacKennan
Production Services: Santa Clarita Studios
©2008 Muppets Studio, LLC
Notes
This is the first production in which David Rudman performs Scooter and Matt Vogel performs Floyd.
Commercials
In September 2008 the Disney Channel aired commercials to promote the special:
Releases
Sources
External links