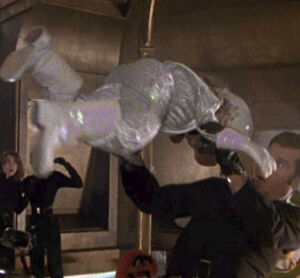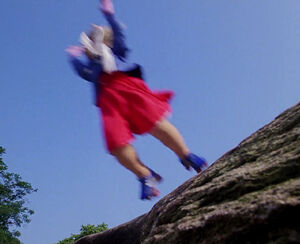 Though the Muppets usually perform their own stunts, at times certain movements or scenes in the Muppet films have been accomplished through stunt doubles, often in full-body suits. In these cases, the doubles are generally only used for long-shots, with the regular puppet and performer intercut for close-ups. Most often, however, Muppet stunts have been achieved through careful rigging and radio controls. The advent of green screen technology in recent years, allowing performers to be matted out entirely, has reduced the need for Muppet stunt doubles.
A full-body Miss Piggy puppet was constructed. The double was used for certain motorcycle riding scenes during the police chase. The use of a double is most noticeable when Piggy crashes through the window at the Mallory Gallery and attacks Nicky Holiday.
Kiran Shah, who also performed stunts for Jen and the Skeksis Chamberlain in The Dark Crystal, performed Miss Piggy's stunts uncredited.
During the sequence where Miss Piggy is mugged in Central Park, the character had to don roller skates to pursue the thief, and then leap off of a hill. The roller-skating doubles are shown in long-shot, behind the thief, with the face deliberately obscured. The same method is used when Piggy leaps onto the thief, at which point the puppet takes over.
Cheryl Blackman, Denise Lucadamo, and Christa Tomasulo were credited as Miss Piggy's doubles.
According to Caroll Spinney, speaking at a 2004 Brooklyn Academy of Music event, a stunt double was used for the scene where Big Bird leaps from the moving truck. For the scenes where Count von Count and Oscar the Grouch are supposedly handling vehicles, stunt drivers were crouched inside the hood of each car, watching the road through a television monitor. During the scene where the Sloppy Jalopy swerves into a field, the car was wrecked after hitting a rock.
Ted Hanlan served as stunt coordinator and A. Randy Jones was the driver captain.
Community content is available under
CC-BY-SA
unless otherwise noted.