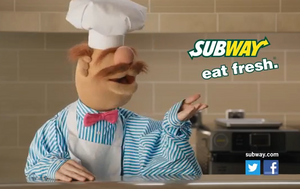 Subway is a world-wide fast-food chain for sub sandwiches.
Promotional Premiums
Appearances
Kermit the Frog, Miss Piggy and the Swedish Chef were featured, alongside "Subway Guy" Jared Fogle, in a television commercial for the restaurant chain in February 2014.
A different commercial titled "Mistaken Subdentity" was aired in the UK in March, featuring Kermit the Frog, Miss Piggy and Constantine. Four edits of the commercial were made (The full 50 second spot, with two 10 second versions and a 30 second version), each including exclusive scenes not present in the other edits. The commercial was directed by Kirk Thatcher.
References
In Muppets Most Wanted, Fozzie is eating a Subway sandwich (accompanied by a soft drink in a Subway cup) and spills some of it on the newspaper he's reading. The green avocado condiment perfectly covers the mole on a picture of Constantine prompting Fozzie to figure out that Kermit has been replaced by Constantine.
Muppet Mentions
A version of the Sesame Street song "One of These Things" was used in a 2004 commercial. (video)
External links