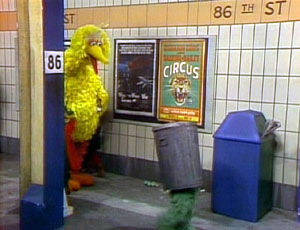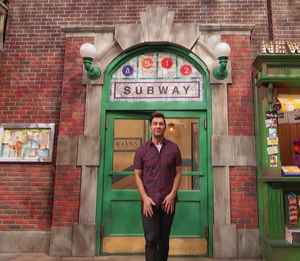 The exterior of a subway station was part of the block of Around the Corner sets on Sesame Street from Season 25 to Season 29, between Finders Keepers and the playground.
Since Season 30, the subway station facade is located at the far end of Sesame Street, beyond the Fix-It Shop.
The sign over the subway station's entrance indicates that it is a stop for the 1, 2, A and B trains. The only borough of New York City through which the 1, 2, A and B trains pass is Manhattan. Although there is currently no subway station at which these four lines stop, all of them pass through the Columbus Circle station at the intersection of 59th Street and Broadway.
Sesame Street's Twitter feed has specifically noted that none of the above lines make stops in Astoria, but they haven't entirely ruled out the show takes place there. The station originally featured a real MTA Subway Map of New York City, but for season 48, it was replaced by a new map with largely fictional stops (many referencing the cast and crew for the show).[1] Similarly, the subway map found in "Sesame Street Land" at SeaWorld uses the accurate train routes, but uses only fictional names of places (including referring to the Lincoln Center area where Sesame Workshop's offices are found as "Secret Workshop").
According to Production Designer Victor DiNapoli, the design of the subway station mimics that of the 72nd Street Station on Manhattan's Upper West Side.[2] In 2016, the facade was revamped with a new, stylized, tile design indicative of those found in the New York City subway platforms.
In the TV special Christmas Eve on Sesame Street, the cast rides the subway from a skating rink back to Sesame Street, getting off at the 86th Street station. There are four 86th Street stations in New York City: two on the Upper West Side of Manhattan (a 1 stop and a B/C stop), one on the Upper East Side (a 4/5/6 stop), and one in Brooklyn (an R stop).
In the studio, the subway station façade is over the actual exit door that leads to the dressing rooms and offices.
Book appearances
See also
Sources