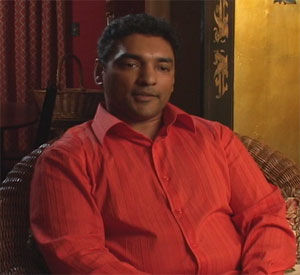 Sugith Varughese is an actor, writer, and director who wrote ten episodes of Fraggle Rock.
He was brought onto the series by Larry Mirkin, who had produced his first two scripts: an episode of a Cold War spy television series called The Phoenix Team and the CBC's first multi-racial romantic comedy titled Best of Both Worlds.[1]
Recalling his time on the series, Varughese commented "I had to present throughout. From table reads through final cut. Sometimes during the edit as well. That was the job. I had to be ready rewrite as needed during the taping which took 3 days."[2] He has suggested that he specialized in Gorg scripts.[3]
As of 2020, Varughese kept a selection of Fraggle toys on his windowsill, next to the computer that he uses to write.[4]
Writing Credits
Sources
External Links