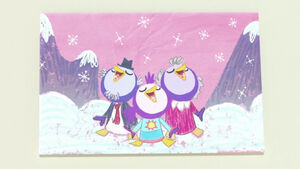 Summer is a penguin featured in the 2018 Muppet Babies animated series. During the planning stages for the reboot of the show, she replaced the initially concepted character Bobbi Baba.
Her official description characterizes her as "super creative. She loves to draw, she loves to paint, she loves to dance—all at the same time. She's the smallest of the group, but she definitely has the biggest heart."[1]
Like most penguins, Summer hails from Antarctica. Her sun-adorned sweater reminds her of home where she used to ride an Icicle Tricycle around the icebergs with her friends.[2]
Behind-the-scenes
Executive producer Tom Warburton on Summer's creation:
"

It was me and our art director Chris Moreno sitting in a room just doodling and drawing, and I came up with this little sketch of a lollipop-shaped penguin with a turtleneck. We probably did a hundred different characters[note 1] trying to figure out who this was going to be, and when we came into Disney Junior with this penguin and a couple others, they immediately went to the penguin and said, 'That one.' We have that original drawing hanging in the studio now.[1]

"
Sources
↑ 1.0 1.1 Entertainment Weekly "Meet the new Muppet Baby! A first look at Summer the penguin" by Dana Schwartz, January 25, 2018
↑ 2.0 2.1 Buzzfeed "The Muppet Babies Are Returning To TV With A Brand New Muppet" by Keely Flaherty, January 25, 2018
Notes
↑ one of which was a sheep character named Bobbi Baba