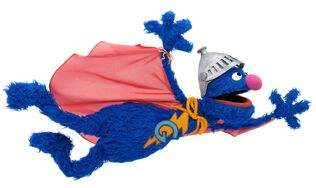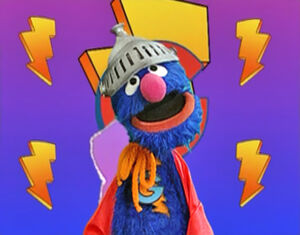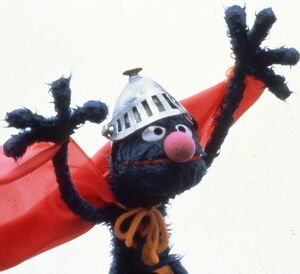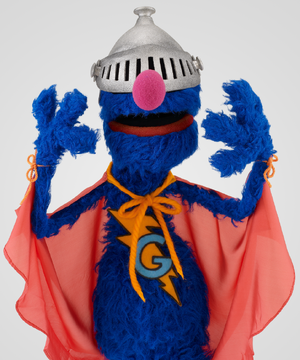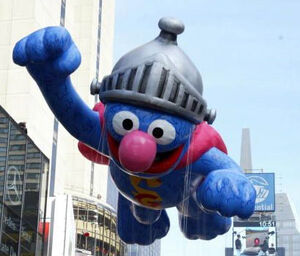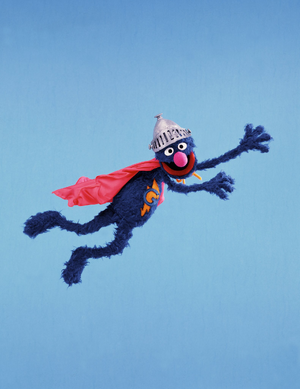 Super Grover is Grover as a superhero, one of his many jobs on Sesame Street. His true identity in these sketches is Grover Kent (referencing Clark Kent), a doorknob salesman for Acme Incorporated. Frequenting Metro City, Super Grover uses his superpowers to help others, though generally he ends up not being much help at all, while they end up solving the problem themselves.
In the 41st season of Sesame Street, Super Grover received an upgrade and his own segment as Super Grover 2.0.
History
On Sesame Street, Super Grover's attire consists of a cape, with ropes tied around Grover's wrists, a helmet, and a patch with the letter G on his chest. However, in most illustrations, his attire consists of a shirt with the letter G on it, shorts, a cape, and a helmet (supplied by Grover's dad). When he appeared in animated form for The Street We Live On, he wore only a cape and helmet, with no emblem on his chest. In most situations, Grover requires a phone booth to change into his costume à la Superman. One exception, such as in The Adventures of Elmo in Grouchland, enables him to spin himself around until his costume appears, à la Wonder Woman.
According to the Associated Press, writer Jerry Juhl originated the character of Super Grover. At a 2006 panel, Bob Payne revealed that he built a helmet for the Palace Guard in Tales of the Tinkerdee, which was later used to build Super Grover's costume. The Exciting Adventures of Super Grover reveals "The Origins of Super Grover," by which it is explained that Grover took on super powers the first time he wore the Halloween costume his mommy had made.
Outside of the titled sketches, Super Grover has appeared in many episodes, books and specials taking on a featured role. In Follow That Bird he joins the efforts being made to search for a missing Big Bird, ultimately by teaming up with Gordon and Olivia. In 2004 he played a lead role in What's the Name of That Song?, while Season 35 marked the opening of his own superhero school.
Sketch Format
Originally appearing in an ongoing series of sketches devoted to his super heroic feats, Super Grover would crash through a wall bearing his logo whilst being introduced in narration by an announcer (voiced by Jerry Nelson). The "Super-Grover" title appeared on-screen in some segments, while others didn't include it. Some time during Season 23, the title was upgraded to "The Adventures of Super Grover" and included an updated version of his superhero theme, originally written by Sam Pottle. His appearances usually involved trying to help someone in trouble by doing something ridiculous such as saying "Wubba, Wubba." In most cases, the distressed individual would solve their dilemma when he wasn't looking -- and Grover, oblivious, thinks that he has saved the day. Pottle's theme continues to appear as underscores in new street stories and skits.
Popularity
Super Grover's popularity has stretched out to include a number of events and attractions outside of just Sesame Street. In 1998, Sesame Place opened a Super Grover themed roller coaster, the Vapor Trail. The ride invites visitors to enter by way of a telephone booth, to "help right wrongs and do good things." The area near the ride is even decorated with a flower and shrub sculpture in the super monster's likeness.
In February of 2002, the Stage Deli in New York City created a sandwich which was named in Super Grover's honor. Super Grover appeared to unveil the new menu item.
From Season 33 to Season 37, Super Grover could be seen at the end each show's opening sequence, holding the episode number title card. He has also appeared in the opening sequences for seasons 38, 40 and 46. In 2003, he made an appearance on Martha Stewart Living and his likeness was immortalized as a Macy's Thanksgiving Day Parade balloon. Two years later, Vee Corporation extended Super Grover's reach to a touring capacity when it produced the live Sesame Street stage show, Super Grover! Ready for Action. Other stage show appearances include the first Sesame Street Live show A Sesame Street Mystery: The Case of the Missing Rara Avis and Elmo's TV Time at Universal Studios Singapore. In the latter, he is joined by his sidekick Kung-Fu Cookie, as the two try to retrieve the missing Cookie Diamond. Oscar finds the diamond, which had ended up in his sardine tin, but Super Grover takes the credit anyway.
When NASA conducted its Orion Flight Test in December of 2014, several accessories were included to help provide extra weight to more accurately analyze its mission readiness. Among several items from popular culture included to garner increased interest from the public, Super Grover's cape flew on board Exploration Flight Test 1 for its four hour duration in space, making two full orbits around the Earth. The following July, NASA astronaut and representative Ricky Arnold made a visit to the set of Sesame Street to return Grover's cape to him in an event chronicled on social media.
Merchandise
Like any superhero worth his salt, Super Grover has also spawned considerable merchandise, not only outside of Sesame Street but even on the street itself. The furry hero has graced the cover of Sesame Street Magazine over the years, including the April 1988, October 1993 and August 2005 issues. He's also appeared in and has been the subject of several Sesame Street books. Merchandising for Super Grover has included a number of t-shirts, figurines (by Tyco, Applause, Enesco, Tra-la-la, and Colin), a Christmas ornament, a toy car, a kite, a puzzle, and a limited edition action figure made by Palisades Toys.
For Palisades' action figure, comic book artist Alex Ross was commissioned to create a portrait of Super Grover for the packaging, which was later produced as a limited poster print direct from the company. Previously, a Super Grover action figure had been attempted by Fun-4-All, but the license never came to fruition. His likeness has been produced in various forms of plush dolls (including playsets by Soft Play and Gund), as a scented, bobble head pen, building blocks, a jack-in-the-box, a plush bookmark, a coffee mug and various figurines (by Applause, Tyco, Fisher Price and Learning Curve).
Within the Sesame Street universe, his popularity can be evidenced by the existence of secret decoder rings (seen in What Did You Bring?), life-sized door posters (Spring Cleaning) and pinball machines (See No Evil, Hear No Evil, Smell No Evil). Even Grover himself asks his mommy to read him Super Grover books on two occasions in The Sesame Street Dictionary.
Appearances
Sketches
Picture
Theme / First
Description

Boxes
Episode 0588
Janet Fringle needs help carrying many boxes. Super Grover suggests gluing them together, but she eventually figures out that taking them one at a time will work.

Telephone Booth
Episode 0647
"Grover Kent" comes across a little girl crying because she can't get home. While Grover looks for a telephone booth, the little girl reads the sign she is standing next to and realizes that she is standing next to one. About to use a dime to call her mother, Grover rushes past her and transforms into Super Grover -- after a few times not quite changing into his costume properly. Now, ready for superhero'ing, Super Grover lifts the booth up with the little girl inside and attempts to take her home.

Bus Stop
Episode 0708
A boy is confused -- his mother told him to take a bus home, but he doesn't know where to find the bus. Super Grover arrives, and they soon discover a sign that says "Bus Stop". The boy suggests that they found the answer, but Super Grover insists that his mother told him to take a bus home, not a sign.

Hair Cut
Episode 0717
Young Willy Nilly is scared to get his hair cut. Super Grover tells Willy that haircuts are scary, but he must be brave. However, Max the barber shows them both that haircuts do not hurt, and soon they are no longer afraid of haircuts.

Fence Exit
Episode 0746
When little Freddy Smith has trouble finding the gate in a fence, Super Grover attempts to bend the pickets. But eventually, Freddy finds an exit sign.

Apple Fight
Episode 0786
Super Grover helps Sammy and Frankie, who are fighting over an apple.

Broken Grocery Bag
Episode 1289
Judy Finstermacher has broken her bag of groceries, and Super Grover tries to find a way for her to get the groceries to her home.

Out and In School
Episode 1356
Little Joanie Jenkins can't figure out how to get into her new school. As Super Grover blunders through many solutions, Joanie realizes she can use the door marked "IN" to get inside.

Computer
Episode 1971
A girl cannot get her computer to start. Super Grover tries to turn it on by jumping up and down and shouting "Wubba wubba!", but she soon discovers that the computer is not plugged in.

Same and different
Episode 2343
Elmo enjoys being Super Grover's friend and thinks they're the same. Grover tries to prove they're different.

Dial S for SuperGrover
Episode 2745
When a little girl realizes that she has too much homework and can't play with her friend, Super Grover offers a number of ways she can resolve the issue. After a few failed attempts at convincing her that his ideas will work, he begins shouting for the boy to break the bad news. During the commotion, the little girl realizes that she can use the telephone to call her friend and explain the situation.

This segment was taped on December 21, 1989.[1]

Super Grover and Super Elmo
Episode 2857
Super Grover decides to teach Elmo how to be a super hero. However, Elmo wears his cape the wrong way, which causes him to trip whenever he wants to fly.

Saving Energy
Episode 3001
Super Grover crash-lands inside an apartment, and when he sees that the lamp light is on, he decides that he needs to save energy by turning off the lamp. His method to turning off the lamp is blowing the light out, but a girl just turns off the switch.

Above and Below with Telly
Episode 3132
Telly and Super Grover are standing behind a wall addressing the audience. They speak of the differences between above (such as a bird flying) and below (as in when Grover crash lands on Telly).

Hat in a Tree
Episode 3133
A fat blue girl loses her wind-blown hat in a tree, but she can't cross the street to get it. Super Grover comes to the rescue, and tries to call the cap back. The girl realizes that she needs a grown-up to cross the street, and with her Aunt Edna she gets her hat back.

Super Annette
Episode 3134
Annette Bening wants to travel with Super Grover when he is helping others, but both have trouble in figuring out how to get around since Annette cannot fly. A clip was featured in Stars and Street Forever

Superhero School
Episode 3225
Super Grover teaches a class for potential superheroes. Among his students are Telly, Elmo, Zoe, Rosita, Herry, and Merry.

Big and Little
Episode 3698
Super Grover asks Baby Natasha, as Super Baby, to help him demonstrate big and little. But Super Baby won't sit still long enough -- she keeps flying around, and ends up crash-landing on his head.

Number Waving
Episode 3884
Super Grover intends to fly into the air and wave at the number of the day. He claims that his springy legs will propel him into the atmosphere. After a few boingy jumps, he decides to forget the propelling part and just do the waving part. The following segment presents the number of the day.

Letter Pointing
Episode 3884
Super Grover says that he's going to fly up into the air and point to the letter of the day. He begins by getting a running start, but only propels himself sideways, hurting himself in the process. Leaning on the brick wall for support, he thinks maybe he will forget the flying part and just do the pointing part. The following segment presents the letter of the day.

Telly's Ups and Downs
Episode 3892
Telly is in the park demonstrating things you can find when you look up and when you look down. When he looks up, he can hear an object moving at great velocity, which he first assumes to be a bird or a plane. Ultimately, Super Grover crashes down upon Telly and asks if he can point him in the direction that goes up.

Letter of the Day
Episode 4005
Super Grover helps Cookie Monster refrain from eating the letter "N," but is ultimately unsuccessful.

Letter of the Day
Episode 4006
Super Grover tries to help Cookie Monster present S as the Letter of the Day, by keeping the frosting covered cookie away in a basket.

Number of the Day
Episode 4037
Super Grover reiterates the Number of the Day: 8

Letter of the Day
Episode 4037
Super Grover presents F.

Waiting for Big
Episode 4211
Sarah Jessica Parker is waiting for "Big" so Super Grover brings her things that are big, bigger and biggest. However, these things are not the "Big" she's waiting for. She's waiting for Big Bird!

The Letter F
Episode 4242
Super Grover replaces the "G" on his chest with an F to help show the Letter of the Day. He tries showing an F-word, "fly", but can't take off properly, thus showing another F-word, "fall."

Apple Tree
 
Elmo can't reach any apples in an apple tree, so Super Grover tries to help, first by telling the apples to come down, and then by shaking the tree. Eventually, Elmo finds a stick that he can knock an apple down with.

Over, Under, Around and Through
Super Grover shows over, under, around and through using a brick wall. He struggles to make it through the wall, until another monster shows him the door.

Online: Plaza Sesamo YouTube Channel (defunct)
Episodes
Picture
Title / Year
Description

Episode 0894
1976
Super Grover helps David quickly close Hooper's Store, but locks himself in.

Episode 1293
1979
Super Grover attempts to retrieve a ball stuck on the Hooper's Store trellis, though Maria quickly saves the ball (and Grover) using a ladder.

Episode 4003
2002
Super Grover pretends to be a bird to participate in Big Bird's National Bird Day dance.

Episode 4037
2003
Super Grover's new cape.

Episode 4050
2003
Zoe's tutu is stuck in a tree.

Episode 4071
2004
Professor Super Grover's School for Super-Heroes

Episode 4080
2004
When the Fairy Godperson changes Elmo into a bird, Super Grover collides with him while flying in the sky. They crash together in Big Bird's nest during a meeting of the Birdketeers. Super Grover swears that the little red bird looks familiar.

Episode 4105
2005
Super Chicken on Sesame Street.

Episode 4126
2006
When Elmo has trouble trying to decide on a present for Rocco's birthday, Super Grover at first suggests a gift horse (into whose mouth one should never look). After he mulls things over a bit more with his brain, he eventually decides (by way of Miles) that Elmo should give Rocco one of his drawings. Later when Super Grover arrives at the party, he lugs in a large boulder as his present for Rocco.

Episode 4131
2006
Gina has just come home with her new adopted baby, Marco. Despite Maria's efforts to secure their time alone to rest, Super Grover crashes through the apartment ceiling to help with the new baby, but it would seem he does not actually know what a baby is. Grover first identifies a pillow and a stuffed giraffe before realizing that the small person on Gina's lap is the baby.

Episode 4176
2008
Super Chicken proves that having a superhero sidekick can be helpful when solving problems. Having caught wind of Super Grover's wish to have a "cute little sidekick" of his own, Horatio bursts out the doors of 123 Sesame Street and offers to take on the role. Super Grover ends up spending most of his day chasing him around and getting the elephant unstuck from various doorways until he ultimately decides to go back to his job at the ballet company.

Episode 4217
2010
As Elmo tries to fall asleep at Luis and Maria's apartment, he is startled by a grasshopper chirping. As they investigate what would be best to do with the insect, Big Bird scares it into hiding. Super Grover hears that they need help coaxing the grasshopper out of hiding, so he crashes through the ceiling to offer his services. Attempting to emulate the sound of a grasshopper, he instead moos and attracts a cow. On his way out, he neighs to summon a horse, and the two fall down the hallway stairs as they exit.

Episode 4275
2011
123 Sesame Street is in desperate need of repairs, much to Gordon's chagrin. Super Grover appears to save the day, but manages to knock a lamp from the wall instead. He tries to open the broken front door using his super huffing and puffing, but to no avail. Gordon shows him how blowing on the doors won't work, but his breath causes both doors to collapse inward. Super Grover, feeling short on breath, hails a taxi instead of flying.

Episode 4280
2012
While Mother Goose tries to write some new nursery rhymes, she gets some inspiration from Alan's struggle to open a pickle jar. Super Grover arrives to help with his super strength, but ends up sending the jar flying away and smashing.

Episode 4306
2012
Elmo and Rosita need help thinking of a song for the letter G. Super Grover provides one that, while using many G words, instead boasts his super skills.

Episode 4612
2016
Super Grover sets up the episode's theme of superheroes by showing off his super jumping abilities with a penguin, who turns out to be "Power Penguin," a fellow hero.

Episode 4629
2016
Super Grover crashes the meeting of the Dress Up Club and demonstrates to its female members that superheroes are typically boys. He bends the social conventions immediately by joining the tea party.

Episode 4807
2017
Super Grover attempts to find the letter M, which has gone missing all over Sesame Street.

Episode 5019
2020
Super Grover appears in the prologue and epilogue of an episode all about comic books.

Episode 5118
2021
Super Grover's attempts at helping people on the street are thwarted by Charlie, who finds different ways her baton can help out. Super Grover eventually sees her potential and hires her as his sidekick, dubbing her "the Cool Tool Kid."

Episode 5209
2022
Super Grover assures Elmo he will use all of his superpowers to defend against germs, only to find out that you don't actually need superpowers to do so.
Songs
Picture
Title / Year
Description

"Adventure"
1992
After Oscar the Grouch leaves En Vogue stranded on Saturn, Super Grover saves the day by flying them through the solar system and back to Earth. Super Grover and Elmo also groove to the repeated lyrics "Go!" for a matte shot that was later used in its own stand-alone segment on Sesame Street and later included on the CD-ROM disc available with Playtime with Grover.

"The Super Part of Me"
2005
Super Grover! Ready for Action features this solo by Super Grover.

"What I Am"
2010
Super Grover makes a cameo in the song, saying that what he is is "super."

"I Need a Word"
2013
Dave Matthews sings to Grover, explaining that feels jealous, happy and proud of having a superhero friend, as he flies by Super Grover in a fantasy.

"The Power of Yet"
2014
Super Grover is shown along with the other Muppet characters struggling with a task; Super Grover has trouble flying. With encouragement from Janelle Monáe, he's able to take off.

"This Is My Street"
2019
Thomas Rhett lists Super Grover flying through the sky as one of the joys of calling Sesame Street "My Street".

"Believe in Yourself"
2019
Super Grover, Elmo, and Abby Cadabby, accompanied by the Jazz at Lincoln Center Orchestra.

"Oops! Whoops! Wait, Ah-ha!"
2020
Super Grover's attempt at flight is one of the many struggles shown throughout the song.
Elmo's World
Picture
Title / Year
Description

Helmet
Elmo's World: Hats
During Elmo's quiz, in which he asks whether or not several things wear hats, Elmo deduces that Grover does not wear a hat. But Super Grover does; and he observes that it's a good thing, since Super Grover frequently crash lands out of the sky.

Super Bike
Elmo's World: Bicycles
Super Grover tries to show Elmo how he can ride his super bike in the sky, but he loses his concentration and crashes to the ground, destroying the bike.

Super Grover and Super Mommy
Elmo's World: Families
Super Grover and his mommy crash land in Elmo's World.

Open and Closed
Elmo's World: Open and Closed
Super Grover attempts to illustrate "open" when his helmet closes over his eyes. He struggles with opening it again until Herry comes along and lifts it with one finger.

Up and Down
Elmo's World: Up and Down
Super Grover demonstrates "up and down" in a video email to Elmo.

Elmo's World: Helping
2007
Super Grover crash lands in Elmo's World offering Elmo some help. Although Elmo doesn't need any at the moment, Super Grover keeps checking in nearly every time Elmo says the word "help." When he's finally needed, Super Grover is snoozing against the door and spends some time thinking of other professional helper jobs while Elmo speaks to a lifeguard, a nurse and a crossing guard.
Movies and Specials
Picture
Title / Year
Description

Don't Eat the Pictures
1983
To communicate with a display of Maximilian armor, Grover becomes his superhero alter-ego and professes his friendship in song.

The Exciting Adventures of Super Grover
1985
The storybook video adaptation of The Exciting Adventures of Super Grover included light animation added to Joe Mathieu's illustrations and a newly recorded voice track by Frank Oz to tell the story of Super Grover's origins and three other stories.

Follow That Bird
1985
Super Grover searches for Big Bird.

The Adventures of Elmo in Grouchland
1999
Waiter Grover, too busy to serve Mr. Johnson, hears that Elmo is trying to catch his runaway blanket. In a rare on-screen display of heroic ability, Super Grover leaps off of the ground and into the air to save the day. When he spots his destination, his usual crash is multiplied by a collision with Elmo and Telly.

Sesame Street 4-D Movie Magic
2003
After imagining himself as a cowboy and fireman, Grover then imagines himself as Super Grover, but is immediately struck by a giant rock from the sky. CGI animated "birdies" fly around his head.

A Celebration of Me, Grover
2004
When Grover is honored at the Flyer's Club Roost, he makes his grand entrance as Super Grover, crashing through the roof on top of Mr. Johnson.

The Street We Live On
2004
When Elmo wants to know more about Sesame Street, Super Grover crashes into his closet in Elmo's World. He offers to take Elmo through the time barrier to the Sesame Street that was. Unfortunately, he has trouble flying with Elmo on his back, and must transform into his taxi driver persona instead. Super Grover also appears in animated form and in the closing song.

What's the Name of That Song?
2004
Super Grover tries to find one song that everyone in the world can sing together.

Elmo's Christmas Countdown
2007
Elmo and Abby Cadabby await the arrival of several boxes that have gone missing from the Christmas Counter-Downer so that Stiller the Elf may restore the countdown to Christmas. Super Grover falls from the sky, having stumbled upon the box for 8 when it got caught in his cape. When Elmo proclaims the finding one of many Christmas miracles, Super Grover counters that it's actually an FAA violation. But since it's Christmas, he decides not to report Stiller, citing that he's tough, but fair.

Elmo Loves You
2009
After Rosita and Elmo have chased after the card Elmo made for a special someone, Super Grover offers to help reacquire it. Swooping up into the sky, Super Grover tries to catch the card which has been taken by the wind. Crashing to the ground, he believes he has failed, until he turns around and Elmo pulls the card off his cape. Super Grover later reveals that he's learned that there are many ways to show love. Elmo and Rosita demonstrate by hugging the supermonster, who leaves to consult his chiropractor.

Sesame Street's 50th Anniversary Celebration
2019
Super Grover helps to look for the missing Sesame Street sign. He is also seen in animated form during the credits, flying past while trailed by the Teeny Little Super Guy.

The Monster at the End of This Story
2020
Grover briefly transforms into Super Grover during the opening number.
PSAs and Commercials
Picture
Title / Year
Description

NBA
2003
Super Grover appears in a 2003 NBA ad for their "1,000 Reasons Why I Love This Game" campaign. He points he loves basketball because the players fly through the air, much like himself.

Healthy Habits for Life
2005
Super Grover explain how walking is a super way to be healthy and strong. So instead of flying in the air, he decides to walk instead.

Ready To Learn
2007
In a PSA for parents watching PBS with their children, the Ready to Learn initiative produced a spot starring Super Grover and his alter ego Grover Kent. Cleo from the PBS series Between the Lions assists him in drawing his superhero logo, which she hangs on the fridge. While the narrative establishes that Super Grover is revealing his identity to the world, the spot encourages parents to proudly display the letters and words written by their children.

Food for Thought
2010
Super Grover tries saving the day for Elmo, Rosita, the Four Bears and a traveling rooster, but is beaten to the punch by The Super Foods, who help situations with healthy tips.

Growing Hope Against Hunger
2011
Upon hearing the word "help," Super Grover lands on the street to save the day. Chris tells him that the help they need is getting food to those who need it. Grover combines his superhero and waiter personas and becomes "Super Waiter." Chris tells him that one monster cannot fight hunger alone and he would need everyone's help. Super Grover gets inspired and "invents" the food drive.

International Rescue Committee
2017
Mandy Patinkin talks to Super Grover about the importance of education for refugee children.

Farmers Insurance Group
2019
Super Grover crashes and asks if Farmers Insurance covers monsters having accidents.

DoorDash
2021
A DoorDash courier delivers a stack of paper towels to soften Super Grover's landing.
TV and Online
Picture
Title / Year
Description

The Sunny Side Up Show
2008
Grover appears live with Kelly and Chica to celebrate New Year's Eve. For the December 31 appearance, Kelly shows Super Grover how kids can make their own cape using a pillowcase. Super Grover says it's fitting since he uses his cape to sleep on. When it's time for Play with Me Sesame, the costumed superhero remembers that Grover is on that show, and suddenly remembers that he has some superheroing to do.

The Sunny Side Up Show
2009
Super Grover returns the following day to ring in the new year with a Super New Year's Party. The trio play a game (similar to Beat the Time), sing a song about their New Year's resolutions, and look at Super Grover fan art drawn by Sprout viewers. Finally, Super Grover is awarded the Super Good Egg Award for which he thanks his mommy and daddy.

Entertainment Weekly
2012
Grover and Cookie Monster appear in various musical spoofs. One such spoofs The Avengers, featuring Super Grover and "The Edible Hulk."

Today
2017
When Kathie Lee Gifford and Dean Cain get locked in their dressing room, Cain (who played Superman) begins to rip his shirt open to attempt a super feat, just as Super Grover crash lands at their feet. He tries to smash the door down, but ends up having to yell for help.

The ABCs of COVID-19
2020
Super Grover appears in the third CNN town hall special that aired in December 2020.[2]

Sesame Street in Communities
February 2021
Super Grover instructs the viewer on how to establish confidence by striking a super pose to ease worry and anxiety.
Other
Picture
Title / Year
Description

The Wild Duckie Chase
1989
Super Grover encounters Ernie and Bert, flying in a plane looking for Rubber Duckie. He proceeds to get some super helpers (children from the studio audience) to help look.

Elmo's Reading Basics
1998
One of the activities takes place in a Super Grover comic book, where Elmo and the player help finish word bubbles pertaining to things Super Grover must rescue.

Grover's Travels
1998
Grover becomes Super Grover to help teach Elmo how to fly off his island in the sky.

The Adventures of Elmo in Grouchland CD-ROM
1999
Much like the feature film, Waiter Grover turns into Super Grover. However, he cannot rescue Elmo, claiming Oscar's trash can is out of his jurisdiction.

Play with Me Sesame
2003
Super Grover plays "Super Grover Says", instructing the viewers to put on helmets and capes, and demonstrates a few times.

Play with Me Sesame
2003
Ernie leads the audience in a game of "Ernie Says" which includes making various noises. When he asks viewers to make the sound of a police siren, Super Grover shows up to assist with the emergency. Ernie assures him that it's just "us" making the sound of a police car and Super Grover ventures off. He returns after hearing the sounds of a cat, figuring that a kitty must be stuck in a tree somewhere, and again in response to a phone ringing (both cases being Ernie again). Finally, he's so accustomed to Ernie's game that when a lion shows up (Chicago), he thinks the realistic roars are part of the game until he comes face-to-face with the king of beasts.

Super Healthy Monsters
2012
In the park, Super Grover spots Pilar yawning, but he thinks she's imitating a tiger, indicating there's one around. She explains she's yawning, which means she's tired and heads home for a nap. Grover finds himself yawning too and hails a taxi, feeling too tired to fly.

My Sesame Music: Kindness
2020
Super Grover defines kindness and provides examples for how the viewer can be kind.

My Sesame Music: Transportation
2020
In order to demonstrate different modes of transportation, Super Grover attempts to fly. When he is unable to do so, he decides he'll just take the bus.

Little Neighbors
2021
Elmo and friends have started a "Little Neighbors Club" to help their community. Super Grover believes he may be of service, but when he learns he doesn't need to be a super hero to help his neighbors, he changes back to his normal identity.
Book appearances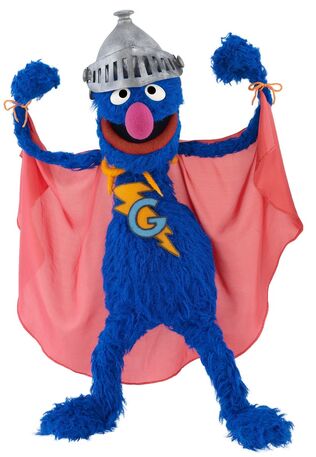 Online
Notes
For Sesame Street's 40th season, Sesame Workshop released an online promotion in the style of Facebook titled "Muppetbook." For his profile, Super Grover listed his favorite songs as 3 Doors Down's "Kryptonite" and R Kelly's "I Believe I Can Fly."
Sources
See also