Published
2007
Publisher
Phidal Publishing
Series
Super Sticker Books
ISBN
9782764304273 (Elmo's World)
9782764304280 (Sesame Street)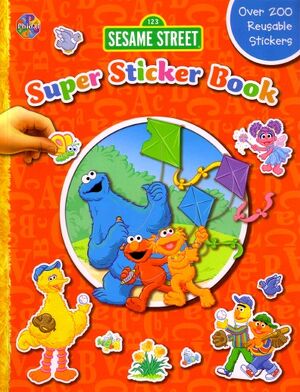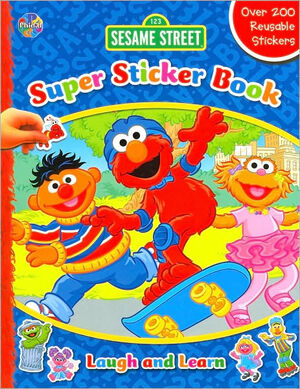 Phidal published two Super Sticker Books in 2007 -- Elmo's World Super Sticker Book and Sesame Street Super Sticker Book. The oversized books include 48 vinyl pages, and eight pages of stickers. The stickers include both photographs and illustrations of Sesame Street characters.
Elmo's World Super Sticker Book
The "Elmo's World" Super Sticker Book has four sections:
School Days
Elmo packs his backpack and goes to school with Ernie, Big Bird, Zoe and Cookie Monster. He learns how to count with Count von Count.
When I Grow Up
Elmo imagines that he's a firefighter, and Zoe imagines life as a doctor. Farmer Grover shows Elmo and Ernie about life on the farm. Elmo also imagines himself as a bespectacled businessman, counting on an adding machine. Future chef Cookie Monster bakes a batch of cookies with Little Bird.
Let's Eat!
Elmo goes to the grocery store, and eats lunch in the school lunchroom with Bert.
Animal Friends
Elmo learns about animal tracks, and where animals live. At night, he snuggles up with his doll, David, and dreams about nocturnal animals.
Sesame Street Super Sticker Book
The Sesame Street Super Sticker Book has four sections:
Team Sesame
Cookie Monster and Bert play soccer, Ernie and Elmo play football, and Big Bird and Elmo play basketball. Zoe tries to slide into home, but Oscar the Grouch says she's out.
School Rules!
At school, Elmo, Ernie, Bert, Zoe, Cookie Monster, Baby Bear and Abby Cadabby play on the playground.
Sesame Seasons
In spring, Big Bird, Cookie Monster and Telly Monster play in the park. In the winter, Elmo, Zoe and Oscar skate on a frozen river.
Sharing and Caring
The reader helps Ernie, Bert, Cookie Monster and Prairie Dawn find their favorite things. Grover reads a book to Abby Cadabby, and Big Bird helps Cookie Monster learn to skate.
Translations
Community content is available under
CC-BY-SA
unless otherwise noted.