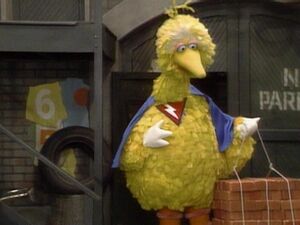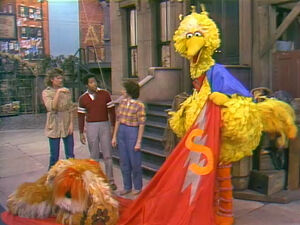 Superbird is the most commonly used moniker when Big Bird plays dress up as a superhero. Many of his attributes, including the shape of his emblem and his call to action, are modeled after Superman.
Superbird first appeared on Sesame Street in Episode 1463 when Big Bird received the costume in the mail. He tells the audience, "I'm my favorite superhero, Superbird," implying that the character had already existed in some form for Big Bird to emulate. The costume consists of a red, diamond-shaped shield with a lightning bolt on it which is used to fasten the two ends of a blue cape that wraps around his neck.
Although Big Bird claims that he's "faster than a speeding sparrow," can "leap small buildings in a single hop" and has "eyes like a hawk, wings like a dove, [and a] heart like a chicken," he uses his influence to help people perform menial tasks such as holding the door open for Susan and watching Willy's hot dog cart.
Big Bird plays Superbird again in Episode 1827 where he assists his neighbors with similar unremarkable but helpful feats, but this time he finds that superheroes sometimes need help when he recruits Maria to scratch an itch on his back he can't reach. In Episode 1829, Superbird teams up with another champion of Sesame Street, rushing to the rescue when Super Snuffy becomes caught under a slumbering Barkley.
When the avian paladin appeared in Episode 2060, this time with white gloves added to his guise, he manifests in a fantasy sequence in which he's able to exert physical strength to carry a pile of bricks and karate-chop some wooden planks. In reality, Big Bird is pleased that he can at least help to open a jar of peanut butter for a little kid.
Big Bird later takes on the Superbird persona, sans costume, in Episode 4037.
Other super personae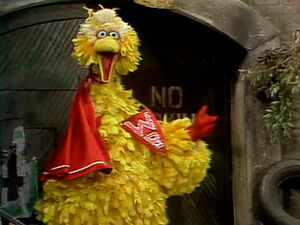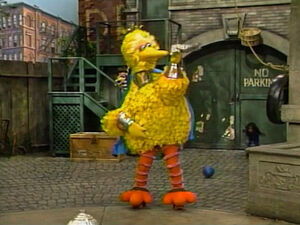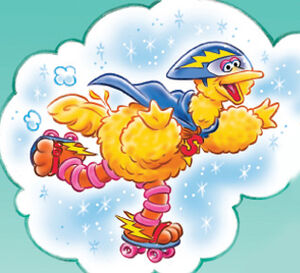 Four seasons before materializing as Superbird, Big Bird appeared in Episode 1032 as Wonder Bird. Wearing a red cape with red gloves, and a pennant around his neck with the initials WB, Wonder Bird's mission was to spread wonderfulness all over the globe.
In Episode 1596, Big Bird dons a cape to become Helping Bird. His tasks are less mundane in this appearance, as he gets to help Gordon who has twisted his ankle.
Big Bird becomes the Yellow Avenger in Episode 3043, who gets around on roller skates. This costume also consists of a blue cape, but his emblem features a large letter Y, and he wears gold, star-spangled bracelets on his wrists (wings). The Yellow Avenger operates with a team of other costumed do-gooders such as Super Elmo, Merry Monster, some of the kids in the neighborhood, and eventually Telly Monster who decides to be Soup Telly (bringing soup to those who need it).
In the 2007 customizable book We're All Superheroes!, Big Bird appears as Super Good Sport. A blue cape is complemented by a letter S on a lightning bolt, a modified bicycle helmet with a visor, and roller skates decorated with bolts of lightning on each side.
Precursors
The concept of Superbird was first written in a script for Episode 0019, but was ultimately not used. Gordon announces his arrival with a paraphrased version of Superman's introduction: "Look, up the block! It's a bird... it's a plane... it's Superbird!" Big Bird, who appears in a cape that the script describes as "Superman type", adds that he can leap bullets in a single bound and that he's faster than the tallest building. Taking the latter claim literally, Gordon challenges him to a race. Big Bird loses, but his friends all assure him that he has other great qualities, and sing "Aren't You Glad You're You?" to him.
See also
Blue Bird is a superhero creation of Big Bird's, who materializes in live action sequences in two Season 20 episodes.