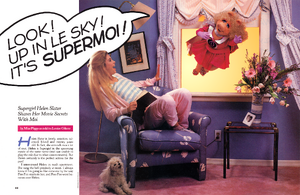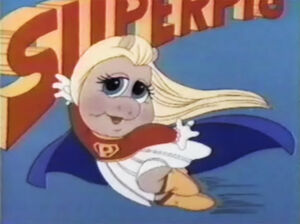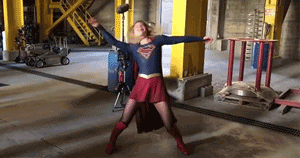 Supergirl is a superhero who was created for DC Comics by Otto Binder Al Plastino in 1959. Like her cousin Superman, she is an alien from the planet Krypton who exhibits extraordinary powers on Earth.
The character has been interpreted in many ways over the decades, appearing in a number of comic book titles, and has translated to animation, video games, a live-action feature film in 1984, and a television series that premiered on CBS in 2015.
References
When the babies decide to write to Hollywood stars in the Muppet Babies episode "This Little Piggy Went to Hollywood," Skeeter says she's writing to Supergirl because "she's neat-o!" In the same episode Baby Piggy briefly appears as SuperPig in a song montage, her superhero suit emblazoned with the Super symbol (adjusted to accommodate a "P"), and name stylized similarly.
Mentions
In the 2015 series Supergirl episode "Bizarro," Kara describes Bizarro Supergirl: "She looks like me, fights like me, except for the fact that she talks like Cookie Monster she's exactly like me."
In the episode "Myriad," Maxwell Lord claims that the Man of Steel was brought to his knees by a mind control device because he "went to kindergarten and watched Sesame Street."
While filming the season 4 Supergirl episode "Bunker Hill," director Kevin Smith recorded a video of star Melissa Benoist doing a "Fraggle Dance" while she flails her arms around in a manner he compares to a Muppet.
Connections
Community content is available under
CC-BY-SA
unless otherwise noted.