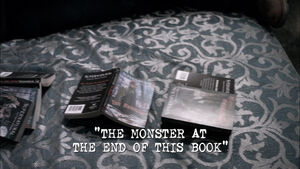 Supernatural is a series on the CW focusing on brothers Sam and Dean Winchester as they hunt various supernatural beings. Premiering in 2005, later seasons often involve the pair in larger conflicts between Heaven and Hell. Dean Winchester, who often makes pop-culture references, has frequently referenced the Muppets, as have others.
Muppet Mentions
In the fifth season episode "Point of No Return," referring to the angel Michael wanting Dean as his vessel, Sam says "So Michael's not about to make you his Muppet?"
In the sixth season episode "Family Matters," the alpha vampire says Samuel does as he's told. Dean says, "Well, if the old man's Kermit, whose hand's up his ass?"
In the sixth season episode "Mannequin 3: The Reckoning," Dean talks about a junior college: "They don't even dissect anything good in there. Anything bigger than Kermit, they use an iPad."
In the seventh season episode "How to Win Friends and Influence Monsters," an angry waiter refers to the tall Sam as "Big Bird. Later in the episode, Bobby refers to Sam's hallucinations of Lucifer as "aren't you full up just playing Snuffleupagus with the devil all the live long?"
In the tenth season episode "Inside Man," Bobby says Metatron (who is short, frizzy-haired, and wearing a vest) "looks like a Fraggle." Metatron takes it as a compliment: "That was an excellent program."
In the eleventh season episode "Just My Imagination," Dean and Sam are wearing knit sweaters while posing as child psychologists. Dean quips, "The Bert and Ernie pretext. Awesome." Later in the episode, Dean refers to a group of beings who function as imaginary friends as "Sesame Street mother Teresas" compared to real monsters.
In the eleventh season episode "Our Little World," a demon refers to the devouring Amara with "Little Muppet tore through half my buds..."
In the twelfth season episode "There's Something About Mary," Lucifer counters demon Crowley's claim of being a master strategist: "More like Kermit the Frog. Oh, my little Muppet!"
In the thirteenth season episode "Good Intentions," Dean refers to Donatello as "the Muppet professor."
In the fourteenth season episode "Mint Condition," Dean suggests that for Halloween next year, he and Sam should wear matching outfits. His suggestions include Bert and Ernie (though Dean realizes "That's weird") as well as Batman and Robin and Rocky and Bullwinkle.
Connections
Sterling K. Brown played Gordon Walker in multiple episodes
Matt Frewer played Pestilence in "Hammer of the Gods" and "Two Minutes to Midnight" (2010)
Community content is available under
CC-BY-SA
unless otherwise noted.