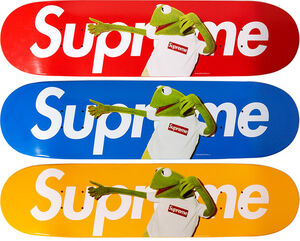 Supreme is is a chain of skater apparel stores which, among other things, carry their own store-brand exclusives featuring the works of popular designers, artists, photographers, and musicians. The first location opened its doors in April 1994 in downtown Manhattan, New York City. More stores have since been added to the chain in Los Angeles, as well as Tokyo, Osaka, and Fukuoka, Japan.
Following celebrities such as Jim Jones, Juelz Santana, and Mike Tyson, Kermit the Frog appeared on the brand's t-shirts (five color choices), skate decks (three color choices), and a poster-ad campaign in early 2008. Executives opted to go with the actual puppet, rather than with a photo puppet poser. The hippest hopper in show-biz was photographed by Terry Richardson. (YouTube)
Supreme also commissioned an exclusive Kermit the Frog Kubrick toy to be sold in their stores.
External links
Community content is available under
CC-BY-SA
unless otherwise noted.