"Surprise!" is a Sesame Street song originally sung by a band of Anything Muppet hippies that would evolve into Little Jerry and the Monotones. It talks about the good and bad parts of surprises, and how people respond to them.
Throughout the song, various characters appear during the sketch in cutaways demonstrating surprises, including: Oscar surprising Susan with a snake in a can; Herbert Birdsfoot in a room surprised by Roosevelt Franklin, Roosevelt Franklin's Mother, Herry, Cookie Monster, Prairie Dawn, and Grover; and Herry sneaking up on Bert. After the many clips of various surprises, the back-up singers eventually give the lead singer their own surprise for him at the end of the song.
The song was also performed on two occasions in street scenes: in Episode 2452 where Little Jerry and his group visit the street, and in Episode 2867 as sung by Elmo, filling in for a sick Little Jerry, with Big Jeffy and Little Chrissy.
Notes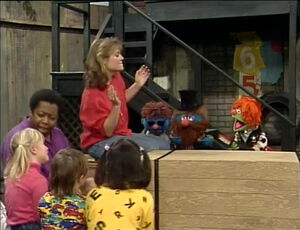 In the original televised version, the nameless group of Anything Muppet hippies is a precursor to Little Jerry and the Monotones; as evident that in the song Jerry Nelson sings lead, with Jeff Moss (along with Joe Raposo and Caroll Spinney) supplying backing vocals. Some of their designs and wardrobe foreshadow that of members of the group. (For instance, the lead singer sports a dashiki that became a part of Little Jerry's apparel, and two of the back-ups largely resemble Big Jeffy and the Pumpkin Monotone.) Regardless, Little Jerry and the Monotones are credited with the song on a 1983 album release, and it has been referenced as one of their songs in later episodes involving stories with the band.
Releases
Audio
Publications
Community content is available under
CC-BY-SA
unless otherwise noted.