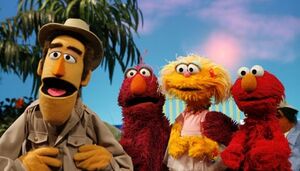 Survivor is a reality series based on stranding a group of strangers as one or more tribes in a remote location, where they must fend for food, water, fire, and shelter for themselves, while competing in challenges to earn rewards and immunity from being voted off by the tribe in progressive eliminations.
References
Sesame Street parodied the show as "Survivor: Musical Chairs." (First: Episode 4134) The Jeff Probst Muppet hosts, and the contestants are Telly Monster, Zoe, and Elmo.
In an outdoor setting, they play the children's game musical chairs. When the game starts there are two chairs and three monsters. The music plays, and they all circle the chairs. The music stops and Zoe and Elmo sit down. Telly Monster is left standing and "does not survive". One chair is removed, and Zoe and Elmo play the game again. When the music stops, Elmo gets the chair, and Zoe "does not survive". She joins Telly at the side of the set.
Elmo is not happy to see his friends so upset. He proposes a new game, in which they will see how many monsters can sit in the chair. The Jeff Probst Muppet agrees, and the show ends with all three monsters piling into the one remaining chair.
In the "Camelot's Got Talent" scenes from Muppet King Arthur, Fozzie brings on several different gag named knights. He asks to bring out "Sir Vivor!", but cancels when it turns out he's stuck on an island somewhere in the Pacific.
Connections