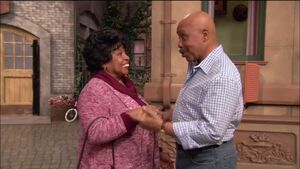 Susan Robinson is married to Gordon, and works as a nurse. In season 17, Susan and Gordon adopted a son, Miles. Susan has appeared on Sesame Street since the earliest test programs in 1969.
In the earliest episodes of the show, Susan was a housewife. By Season 2,[1] she became a public health nurse, so that the character might serve as a better role model for young girls in the viewing audience. Among her projects was offering a Measles Vaccination Clinic in Episode 0343. Susan also worked as a mechanic on the street, commonly fixing cars and even the bus when Big Bird went to camp. During the early seasons, she often sang "One of These Things."
Susan's parents are Dorothy and Lee. They live in Michigan and visited Sesame Street on occasion, including a 1985 episode and a 1991 episode.
She also headlined her own album, Susan Sings Songs from Sesame Street, and had minor roles in both Sesame Street movies. Although she is still a regular on the show, since season 29 she has been appearing in only a few episodes per season, in part because fewer shows are produced now. Susan only appeared in one episode each during the 39th, 40th, 44th, and 45th seasons, two appearances in Season 41 and appeared in four episodes during Season 42. She did not make any new appearances in Season 43 or Season 46.
Other Appearances
Specials
Home Video
Book Appearances
Sources
↑ One character in I am a Monster that had been confused with David has since been identified by illustrator Joe Mathieu as Susan. Clark, Thomas D., email interview with Joe Mathieu, December 1, 2009.
Community content is available under
CC-BY-SA
unless otherwise noted.