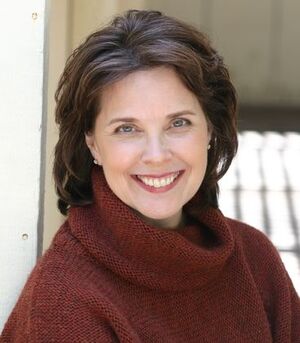 Susan Boyd, also credited as Susan Lawrence and Susan Boyd-Joyce, is a Los Angeles-based session singer and voice actress who was heard on the Dinosaurs album Big Songs, as a background singer and as female soloist on the parody of romantic ballads "Eon After Eon." She was also one of the vocal arrangers for the album (along with husband Jon Joyce and composer Ray Colcord). Boyd narrated the 2004 Story Reader book Elmo's Colorful Adventure.
Boyd acted on-camera in the 70s and 80s, including a regular role on Dr. Shrinker (B.J.) and guest roles on Mork and Mindy, Happy Days, and Welcome Back, Kotter. She was busier as a session singer, heard in commercial jingles and backing up Donna Summer, Julio Iglesias, and Barry Manilow on albums. In film, she dubbed the singing for Cameron Diaz in The Mask and was heard on the scores to The Day the Earth Stood Still, Enchanted, Dudley Do-Right, Poltergeist II, and the 2005 King Kong.
In animation, Boyd voiced the canine love interest (speaking and singing) in Rover Dangerfield and was heard in The Little Mermaid, Mulan, An American Tail: The Mystery of the Night Monster, and James Bond Jr.. She continued the cartoon vein in albums, as Wilma Flintstone in Bedrock Hop and one of the Chipettes in several Chipmunks recordings. In computer games, she voiced Wynne in Dragon Age Origins and was heard in God of War, Conan, and Star Wars: The Old Republic.
External links
Community content is available under
CC-BY-SA
unless otherwise noted.