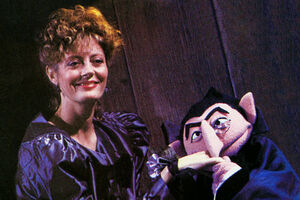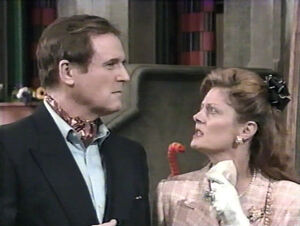 Susan Sarandon (b. 1946) is an actor working in Hollywood since 1970.
She made her film debut in Joe with Peter Boyle the same year she started a two season stint on the ABC soap opera A World Apart. Her other credits include The Rocky Horror Picture Show, a 1982 adaptation of William Shakespeare's The Tempest, the erotic horror film The Hunger (with David Bowie), The Witches of Eastwick (with Cher and Michelle Pfeiffer), Thelma & Louise (with Geena Davis), Stepmom (with Julia Roberts), and Disney's Enchanted (with Amy Adams). She was in a domestic partnership with Tim Robbins from 1988 to 2009.
In 1994, she played Bitsy, one half of a rich couple (opposite Charles Grodin's Chaz) who considered buying property on Sesame Street in the 25th anniversary special Stars and Street Forever
She has also appeared on Sesame Street in several segments. In a sketch with the Count, she parodies one of her more famous movie roles in a Rocky Horror Picture Show spoof where she and the Count are stranded in front of a castle after their car had broken down on a rainy night. (First: Episode 2528)
Her other appearances include a scene with Meryl Sheep, a sketch with Cookie Monster, and singing "The Alphabet Song" with her son Miles in a celebrity montage of the song.
Sarandon performed the voice for Ivy in the 2001 Creature Shop film Cats & Dogs.
External links